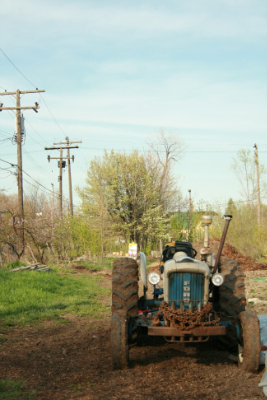 Every year Detroit residents grow tons of produce within city limits. There are so many farms and large-scale gardens in the city that it's easy to forget the elephant in the room: it's illegal.
City zoning laws widely forbid the primary use of a land parcel for farming and also nix any sales of produce grown in the city. Despite this, many consider Detroit to be the global epicenter of urban agricultural activity.
That's why the agreement announced this week between the City of Detroit and Michigan State University (MSU) to build a multimillion-dollar urban agriculture research facility within city limits is a huge and controversial step for urban agriculture in Detroit.
Mayor Dave Bing signed an agreement with MSU Wednesday to commit to further planning of the research facility, which will have a global focus. In a statement, Bing fully endorsed the project, and in doing so, other agricultural efforts in the city.
"We want to demonstrate that innovation based on metropolitan food production can create new business and jobs, return idle land to productivity and grow a more environmentally sustainable and economically vital city," Bing said.
The MSU research center would be called MetroFoodPlus Innovation Center @ Detroit, and aims to explore ways in which urban centers across the globe can grow food, generate energy and create sustainable water systems.
With the global population projected to hit 9 billion in 2050, the food needs are expected to soar. And an estimated 70 percent of the world's population lives in metropolitan areas.
"The systems needed to meet these challenges do not now exist," the MSU project proposal claims.
The plans include transforming abandoned buildings into multi-leveled indoor farms and utilizing up to 10 acres of vacant land to research sustainable farming techniques in an urban environment.
In the agreement Bing signed Wednesday, the city makes no concrete promises and funding for the project has not fully been attained. But MSU is set to invest $800,000 a year for three years to continue planning the project.
It's not the first time a large agricultural project has been proposed in the city. Hantz Farms, a project fueled by corporate investors, hit some bumps in its venture when it came to city zoning and adjacent vacant land blocks.
And even with the mayor on board, questions remain as to how the project would abide zoning and land use ordinances. One Detroit city planner believes there may be a place for the project within existing code.
"There's a special development district called technology and research that the project would likely come under," said Kathryn Underwood, city planner with the Detroit Planning Commission.
Still, Underwood says it is premature to say exactly how the project would fit.
"It's too much of a conceptual phase to figure out exactly what they will be doing," she said. "They signed an agreement to explore doing this. There will be a number of stakeholder meetings to put meat to the idea."
Underwood is one of the community stakeholders selected to further the discussion of how to implement the project. She said it's crucial not to forget the community with large-scale ventures such as this.
"When talking about food, energy and water, we need social innovation at the planning stage," Underwood said.
The first stakeholder meetings for MetroFoodPlus will be held in July and will not be open to the general public.