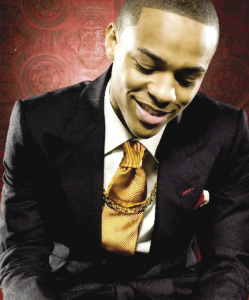 Rap star/actor Bow-Wow (his real name is Shad Moss) made a statement recently that was an indication that despite his high level of success, he has an exaggerated and distorted belief in his importance to the music industry.
With complete seriousness, he said, "I never thought Justin Bieber would be the new me 'cause I don't sing and I'm not White. There probably hasn't been a young artist that's been that successful since me. I was the first to rejuvenate the whole teen thing."
What's that all about?
But even if Bieber has in some way been influenced by Bow-Wow, there is one area that he would in all probability not step into, and that is to make full frontal nude pictures of himself easily available on the Internet, as Bow-Wow has. Probably not a good career move. But you never know.
CAROLYN CRAWFORD (sometimes identified as Caroline Crawford) is one of the most talented and accomplished songstresses to ever emerge from Detroit. If this was a totally fair world, she would be a major star, much like Anita Baker, Diana Ross, Aretha Franklin, Freda Payne and the other Detroit ladies of song, or at least a consistent national attraction.
Oh for sure, Crawford has had her share of success. The excitement level was at its highest in 1978 when she was the featured vocalist on Hamilton Bohannon's sizzling party hit, "Let's Start the Dance." Her performance was so strong, in fact, that the label should have read, "Hamilton Bohannon featuring Carolyn Crawford."
Since then she has worked consistently, but not with a high media profile.
Carolyn Crawford first came to the public's attention in the mid-1960s when, as a student at Northeastern High School, she won the WCHB talent show, the prize being a Motown recording contract.
She subsequently had three terrific singles, "Forget About Me," "My Smile Is Just a Frown (Turned Upside Down)" and "When Someone's Good to You." They were regionally popular, and "My Smile Is Just a Frown" showed up on the national charts.
Maybe it's not "meant" for everyone to reach the high echelon of success. But then again, look how late major stardom came for another Detroit songstress, Bettye LaVette.
In any event, Carolyn Crawford is among the best, and she is a survivor.
IN THAT WCHB talent show, Crawford sang one of Mary Wells' hits. Which brings to mind the fact that a book will be published soon titled "Mary Wells: The Tumultuous Life of Motown's First Superstar," written by Pete Benjaminson.
It was a perfect match when Smokey Robinson began writing and producing for Wells, for it yielded the hits "The One Who Really Loves You," "You Beat Me to the Punch," "Two Lovers," "Laughing Boy," "Your Old Stand By," "What's Easy For Two Is So Hard For One" and the classic "My Guy."
Another feud has developed in the R&B world. In response to people criticizing his recent, and puzzling, sex song, Brian Mc­Knight said, in suggesting what he might do to win the public's approval, "Maybe I should beat the s— outta my girlfriend." That was, of course, a not-thinly-veiled reference to Chris Brown and Rihanna.
Brown was offended. He fired back, "When people's careers get to the 'nobody cares' stage, they use me for publicity."
Let's hope McKnight and Brown decide to take "the maturity route."
One of the strangest collaborations we've heard about (it almost ranks up there with Millie Jackson and Elton John) is Jennifer Hudson and John Fogerty, formerly of the great band Creedence Clearwater Revival. They will do a remake of Fogerty's composition, "Proud Mary," to be featured on his collaborations album, "Wrote A Song For Everyone."
IN LAST week's column we wrote about celebrities who have gotten in trouble with the Internal Revenue Service. Lauryn Hill is another one who should have been discussed in that context. According to the IRS, the weirdly eclectic artist, formerly of the Fugees, owes a whopping $1.6 million. They say she didn't file from 2005 to 2007.
In response, Hill issued a typically long, rambling and somewhat racially tinged statement in which she did everything but actually fully deny the accuracy of the charges. (The IRS tends to know what it is doing!) In any event, Hill's court date is June 29.
TV One's series, "Unsung," has proved to be very successful, giving props to artists who have received recognition, but not as much as their achievements and talents merit.
Stephanie Mills has been asked several times to be profiled on "Unsung" but has refused. Pulling no punches, the very private Mills said, "I don't feel unsung. I've had a wonderful career. I don't like that show."
Mills, a fantastic performer with a great and distinctive voice, has given us such hits as "Never Knew Love Like This Before," "Something In the Way (You Make Me Feel)," "Home," "I Have Learned to Respect the Power of Love," "Sweet Sensation," "I Feel Good All Over" and "What Cha Gonna Do With My Lovin'?"
By the way, it is so hard to believe that Stephanie Mills is now 55 years old!
In case you ever wondered what Prince's all-time biggest single was, the answer is "When Doves Cry" (1984), followed by "Kiss" (1986) and "Let's Go Crazy" (1984).
Someone I find irritating: actor Russell Brand. A group I find irritating: LMFAO.
In light of so many famous people coming out in favor of same-sex marriage, including Charles Barkley, Clint Eastwood, Steven Spielberg, Barack Obama, Sean Penn, Carrie Underwood, Brad Pitt, Russell Simmons and Cyndi Lauper, someone asked me what I think.
Well, my feelings can be summed up in four words: "I really don't care." As Barkley put it, "That's their business," to which Pitt added, "You can't tell someone how to live their life." And then there's Eastwood harsh comment, "I don't give a f— about who wants to get married to anyone else."
BETCHA DIDN'T KNOW…that there were four ladies on the earliest Supremes records ("I Want a Guy," "Buttered Popcorn," "Your Heart Belongs to Me"). Her name is Barbara Martin. Many years later, on occasions when she was asked to sign autographs, she would write, "I blew it!"
MEMORIES: "We're In This Love Together" (Al Jarreau), "Something to Talk About" (Bonnie Raitt), "Disco Lady" (Johnnie Taylor), "She's Out of My Life" (Michael Jackson), "It's Growing" (the Temptations), "Imagine" (John Lennon), "Sweet Thing" (Rufus featuring Chaka Khan), "It's You That I Need" (Enchantment), "Don't Be Cruel" (Bobby Brown).
BLESSINGS to Diane Steinberg Lewis, Willie E. Williams, Jackie Hicks, William Staiger, Eric Pointer, Donafay Collins, Horace Boyington, Claudette Robinson, Clifton-Akai Tuggle, Denise Cash, Gerald Clark, Samuel Kemp, Charles H. Rudolph and Diane Perkins.
WORDS OF THE WEEK, from Alan Cohen: "Keep the truth at the top of your priorities."
Let the music play!
(Steve Holsey can be reached at Svh517@aol.com and PO Box 02843, Detroit, MI 48202.)
About Post Author