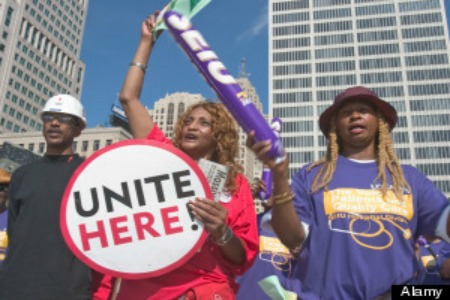 Detroit — Some Detroit union leaders accuse Mayor Dave Bing and the city of backing them into a corner by refusing to negotiate new collective bargaining deals with less than a month before some of the contracts expire.
Union strategy sessions continue to focus on what could be a June 30 contract showdown.
"We looked at this back in December. We kind of expected things to go south," said Joseph Duncan, Detroit Police Officers Association president. "It's my impression they are going to try to impose a contract on us."
Duncan said his and other unions haven't bargained with the city since earlier this spring when the unions agreed to pension, benefits and work rule changes. The tentative agreements were intended to help the city stave off any attempt by the state to appoint an emergency manager.
Detroit faces a budget deficit of more than $200 million and in April entered into a consent agreement with Gov. Rick Snyder that allows the state to have a role in revamping the city's bleak fiscal condition.
Part of that agreement calls for the city to have either negotiated or imposed new labor deals by July 16 for contracts expiring this summer.
"People are saying if (the city) goes to bring somebody in here to take their jobs that there is going to be hell to pay," said Ed McNeil, a spokesman for American Federation of State, County & Municipal Employees Council 25. "When you start to roll over people you are going to get a lot of push-back in this town, which I don't want to see."
But Richard Block, professor and director emeritus of Michigan State University's School of Human Resources and Labor Relations, said if no new deals are reached, it's likely city unions will continue working under the expired contracts.
"Under Michigan law, contracts continue in effect until they agree on a new one," he said.
The city can't "get rid of a worker" unless it's allowed under their collective bargaining agreement or if workers go on strike, Block added.
Municipal "workers in Michigan can't strike, so they can't be replaced," he said. "If they strike, you have a different scenario. The city might take the position that they abandoned their jobs."
The state expects city employees to remain on the job and that new contracts will have been negotiated or in place by July 16, said Terry Stanton, state Treasury spokesman.
Mayor Bing's office did not respond to a request for comment.
City unions have not voted on whether they will strike, but a coalition of about 20 bargaining units has filed an unfair labor practices complaint with the Michigan Employment Relations Commission alleging the city failed to execute the tentative agreements.
Bing last month signed a council-approved budget for the coming fiscal year that calls for cutting more than 2,500 jobs, while shaving $250 million in annual expenses.
The city's accumulated budget deficit is about $265 million. Long-term structural debt stands at $13.2 billion.
The tentative agreement with police would have saved the city more than $20 million and included a 3-year pay freeze, according to the police union.
The tentative deal between the city and about 20 civilian unions was to have created about $60 million in health care savings. But those and other savings didn't "appropriately address" Detroit's fiscal cash crisis, according to a review done in February by the council's fiscal analysis division.
None of the deals went into effect.
"The city is saying we didn't have an agreement because it was never approved by council," Duncan said. "The bottom line is the city needed our help to try not to get an emergency manager. We sat around the table and looked at each other, realizing the city was in trouble. We negotiated with the mayor. As soon as we got it done, they turned their backs on us."
McNeil said the unions contend there is an agreement.
"We have a deal, a 3-year agreement. We signed it. We shook hands," McNeil said. "We know we can't trust them at this point."