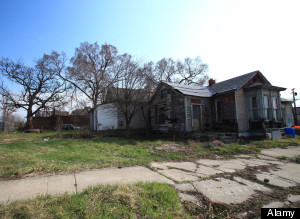 DETROIT, MI — Lisa Benson said in an overgrown alley about a block from her home on Allendale in Detroit is where a 13-year-old friend of her daughter was raped on her walk to school Tuesday morning.
It's not safe to walk alone here, says Benson, 36, whose 14-year-old daughter is a classmate of the victim at Sampson Academy, 4700 Tireman in Detroit.
"She was on her way to our house to walk to school with my daughter," said Benson. "And that's when it happened."
Benson said she or her mother usually walk the teens the remaining three blocks between her home and the school.
Detroit police say an unidentified man, whom the victim reported forced her into an alley near the Interstate 96 service drive at Pacific and assaulted her, fled in a small, light-blue, four-door Ford Taurus.
The teen ran to Benson's home after it happened, Benson said.
"He put her hand over her mouth and told her not to say nothing," Benson said, "and if she did, he was going to kill her.
"After he got done doing what he was going to do to her, he told her to count to 100 and don't look back or he'll shoot her."
When the teen arrived at Benson's home, Benson called the child's parents and police, who quickly responded with medics.
"She was scared, crying, everything, shaking," Benson said. "She was in shock."
The victim described the suspect to police as a 5-foot, 11-inch tall black male, medium build, with a light complexion, trimmed mustache, goatee, about 25, who was wearing a Detroit "Old English D" baseball cap, a navy Detroit Tigers jacket, dark jeans and boots at the time of the attack.
Detroit police Deputy Chief Benjamin Lee on Thursday said police have stepped up their presence in the neighborhood and hope it's an isolated incident.
Benson said parents of students who attend Sampson Academy on Tuesday received calls notifying them that "a rapist was on the loose."
Sampson Academy Principal Jason Patton on Thursday declined to comment about the incident and referred comment to Steve Wasko, spokesman for Detroit Public Schools, whom MLive could not reach for comment as of Thursday evening.
Benson's neighbor, Dorothy A. Gardner, 36, said she's often on her porch and watches out for kids on their way to school, then she waved her hand across a blighted panorama from her front porch, also on Allendale near Firwood.
"Look here," Gardner says and points. "The little girl was raped in the alley right here. The city's not doing anything. If you look around the grass is almost as tall as I am" and "the weeds done grown into trees."
The house next to Gardner's is vacant, the windowless brick house across the street is vacant and another that backs up to the alley where the assault occurred is vacant.
The windows there are smashed, the door open to its gutted and garbage-strewn interior.
"I saw her run to the house," says Gardner, referring to when on Tuesday she witnessed the victim run from the alley toward Benson's home kitty-corner to her own. "She was running, she was crying and I just went in and got my coffee… and when I came back out there were two cop cars there."
Gardner has three children 15, 13 and 11, who also attend Sampson Academy.
"None of them walk by themselves," she said. "I know people have seen on the news about the rape in the neighborhood and they still let their little kids walk by themselves."
The concrete alley in which the reported assault occurred is crowded with weeds and contains various debris and litter, including several discarded mattresses and box-springs.
A mixture of houses — some tidy and occupied and as many others d
ilapid
ated, filled with unruly weeds and vacant — back up to the alley.
Benson estimated her daughter passes at least 25 vacant homes during her three-block walk to school.
"I don't even want to think about" what could happen to my daughter, she says. "They're abandoned, they're empty. It's an easy target for them to grab one of them and take them into one of these abandoned houses."