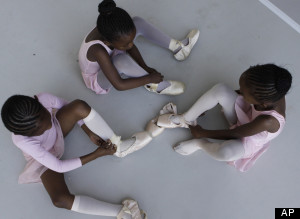 While diet and exercise have long been considered the magic bullet in helping curb the obesity epidemic among adolescents, new research shows that the latter doesn't reap the same benefits for black girls as it does for whites.
In a study published in the Archives of Pediatrics and Adolescent Medicine, researchers found that higher levels of physical activity at age 12 were associated with lower levels of obesity in white adolescent girls by the time they turned 14. Among black adolescent girls who moved the most at age 12, however, obesity at age 14 was nearly as likely as it was for those who exercised far less.
Study authors James White, PhD and Russell Jago, PhD, concluded that racial differences may predispose black girls to retaining fat accumulated during puberty, explaining the disparity. "Our results suggest that prompting adolescent girls to be active may be important to preventing obesity but that using different approaches (e.g. emphasizing reductions in energy intake) may be necessary to prevent obesity in black girls," the authors wrote.
The study compared white and black girls' physical activity and food intake over three days, using a pedometer to measure exercise and a food diary to keep track of what they ate. Participants were also asked to provide information on levels of physical activity that they engaged in during the previous year. Based on activity, each group was divided into upper and lower halves.
Factoring in BMI, television viewing and two other obesity measures, White and Jago found that 12-year-old black girls in the top half of the physical activity continuum were only 15 percent less likely to be obese by age 14 than ones in the lower half. White girls in the upper half on the other hand were 85 percent less likely to become obese over the next two years than were those in the lower half. Figures on how many girls became obese by age 14 were not given.
These findings come on the heels of widespread debate about obesity among African-American women. 2010 estimates put obesity among black women at 54 percent — the highest among all groups in the U.S. — and prompted a controversial editorial in theNew York Times last month as to why the problem persists.
"Too many experts who are involved in the discussion of obesity don't understand something crucial about black women and fat: many black women are fat because we want to be," columnist Alice Randall wrote, countering White and Jago's findings and previous research that suggests that there's an inherent metabolic difference at play.
As grim as the obesity outlook may be for black adolescent girls and black women, another group of researchers from Baylor College of Medicine and Rice University have taken a more positive stance, identifying a large number of African American women who have lost clinically significant amounts of weight and kept it off for longer than a year, in a study published in the Journal of General Internal Medicine last month.In a 2008 study published in the Journal of Clinical Endocrinology & Metabolism, black youths were found to oxidize fat more slowly in response to exercise and tended to have lower resting metabolic rates than their white counterparts, with black girls more likely to exhibit both.
Successful losers in their study achieved their weight-loss goals by engaging in moderate to high levels of physical activity, limiting fat intake, eating breakfast, avoiding fast food restaurants, and using a scale to monitor their weight.