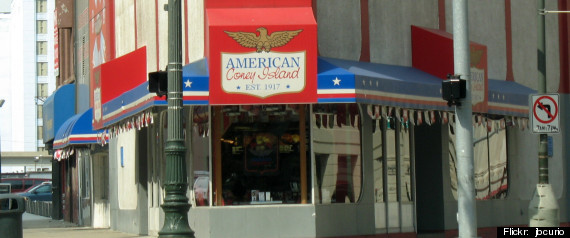 Detroiters will gather downtown Wednesday to wish one of the city's legends a happy birthday as American Coney Island celebrates 95 years in business in the same location, run by the same family.
To mark the occasion, the restaurant is turning back time a few decades and offering coney dogs for 95 cents from 11 a.m. to 1 p.m., according to WXYZ.
The restaurant, run by the founder's granddaughter Grace Keros, has been in business on Michigan Avenue next door to friendly competitors Lafayette Coney Island since 1917. It has all the makings of an institution: rivalries, secret recipes, cheap food, patrons from across the city and plenty of history.
But while we are all for celebrating (and cheap lunch), we're a little leery of the occasion's marketing stunts. According to the Detroit News, American Coney Island teamed with radio station 95.5 to drop 955 natural casing dogs from a helicopter onto a Dearborn soccer field. The frankfurters won't be thrown away after the ensuing hot dog gathering contest, but will go to feed pups at Detroit Dog Rescue.
If you don't get a chance to have a lunchtime coney dog (or two) on the restaurant's birthday, check out some mouthwatering pictures below and get your fill of coney history with unofficial expert Katherine Yung, cowriter of "Coney Detroit.