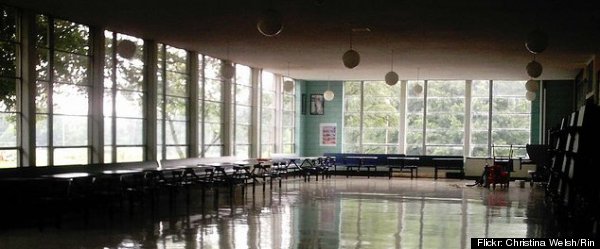 The Detroit Public Schools district has closed dozens of schools over the past few years and now finds itself responsible for a substantial number of decommissioned buildings.
The district's Office of Real Estate currently lists more 80 unused school structures on its website. In order to find new owners for some of these vacant properties, the district will hold a day-long real estate conference Wednesday at the Sacred Heart Seminary in Detroit. The district is billing the event with an eye toward redevelopment: "Old Schools, New Uses."
The conference is aimed at architects, developers and others who may have visions for reusing the school buildings. It will highlight 20 of the district's sites and buildings (see a full list below), walking participants through the process of buying property from the district.
Chris Velasco, President and Executive Director of PLACE (Projects Linking Art, Community & Environment) will give a keynote address about his organization's experiences with green jobs and economic revitalization.
Dan Pitera of the Detroit Works project will also be on hand to talk about how school properties relate to the city's long-term development vision.
Attendees can expect information on redeveloping historic buildings, navigating permit and approval procedures and making use of historic designation funding and tax credits.
DPS has faced some criticism from preservationists and its own former architect, Bill Dickens, who claimed the district was prioritizing demolition of properties over renovation and reuse.
"Detroit had the finest collection of school building architecture in the nation," Dickens told the Michigan Citizen earlier this year. "Any older structure can be reworked and revised at a greater savings than it costs to demolish."
DPS spokeswoman Jennifer Mrozowski told The Huffington Post that a few-dozen DPS structures "appear to be ready for demolition," though she added that "some innovators may see a re-use possibility" for them.
Two former schools have already found new purpose: Mrozowski noted a developer had successfully transformed the Malcolm X Academy building into a music incubator, and the former Redford High School building is slated to become a Meijer Superstore.
The sale and leasing of unused structures has served as a source of revenue for the financially struggling district. DPS has sold 25 vacant or closed buildings since 2009, generating nearly $10.9 million in revenue. Leased properties bring in around $1.9 million per year.
The properties highlighted at Wednesday's event are:
2920 Joy Road (Brady)
18040 St Aubin (Courville)
9027 John C Lodge Freeway (Crossman)
2600 Leland (Knudson/Douglass High)
2920 E Palmer (Ferry)
17501 Brush (Greenfield Park)
Grand River at Forest (Old Wilbur Wright site)
744 Adeline W (Grayling)
355 Phillip Guyton
1745 W. Hancock (Hancock)
18100 Bentler Street (Holcomb)
4365 Newport (Hosmer)
20220 Tireman (Kosciusko)
4835 Joseph Campau (Northeastern VL site)
2701 Fenkell (St. Peter's/Robeson)
10461 American (vacant land)
6101 Van Dyke (Kettering High)
8820 Woodrow Wilson (Hutchins Intermediate)
6600 Benson (Berry)
1333 Pine (Burton Pk-8)
15055 Hubbell (Cooley H.S.)
"Old Schools, New Uses: Re-Inventing Vacant School Buildings and Sites in Detroit for Innovative Redevelopment" takes place May 23 at Sacred Heart Seminary, 2701 Chicago Boulevard, Detroit. It runs from 8 a.m. to 3:30 p.m. Participants must register for the event. For more information visit the district's real estate website.