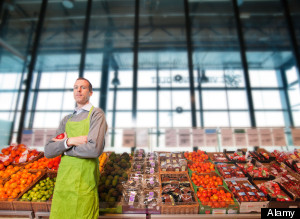 A suburban high-end gourmet market may become the latest full-line grocer to commit to opening a store in Detroit.
Papa Joe's Gourmet Market & Catering, which has locations in Birmingham, Rochester and inside Royal Oak's Beaumont Hospital, is in discussions to become the Motor City's newest grocery addition. A Meijer Inc. store is expected to open in spring 2013 at Eight Mile and Woodward Avenue, while a Whole Foods store is scheduled to open later next year in Midtown.
Tony Curtis, part owner of Papa Joe's, told The Detroit News the market is trying to determine the viability of the project.
"All I can say is that I scrutinize every offer that every developer offers to me to see if it can be a viable location and opportunity for both Papa Joe's and the community," Curtis said in an email. "I believe that if enough business people put enough time, money and effort into Detroit, we can make it a great city once again."
Papa Joe's, around for more than two decades, is known for its variety of gourmet products and fresh produce. The market offers full catering services, wedding cakes, pastries, floral products and gift baskets.
Curtis did not disclose where the market is considering setting up shop. Bedrock Real Estate Services, one of Detroit-based Quicken Loans Inc.'s family of companies, confirmed it is in discussions with several grocery stores to locate downtown, but declined to name any candidates.
Bedrock — owned by Quicken Loans founder Dan Gilbert and partners — owns nine buildings downtown and has added new tenants in the past month, including Chrysler Group LLC in the former Dime Building that is now called the Chrysler House.
It is unclear whether Papa Joe's is seeking incentives.
A Michigan Economic Development Corp. spokesman said he is unaware of any incentives for a Papa Joe's store.
The Detroit Economic Growth Corp. said it does not discuss possible tax incentives until they are finalized, but did say Papa Joe's could take advantage of the Green Grocer Project, which is designed to increase the number of high-quality grocery options for Detroit consumers.
The developer of Whole Foods received $4.2 million in private and public incentives. The Gateway Marketplace project, which will include a Meijer as the anchor store, received $6.1 million in brownfield tax credits and a school tax break valued at about $10.8 million, among other incentives.