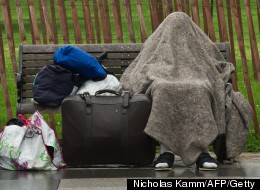 Homelessness is decreasing in Michigan, according to a new report released by a public-private coalition dedicated to helping homeless people find housing.
Michigan's Campaign to End Homelessness found there were 6,143 fewer Michigan residents who were homeless for any part of 2011 than who were homeless during 2010.
The report found that about 94,000 people in Michigan were homeless in 2011, compared to a little over 100,000 in 2010.
"It's a significant change in that it's the first decrease we've seen in a number of years," said Eric Hufnagel, executive director of the Michigan Coalition Against Homelessness, which serves as a central clearinghouse for the state's HMIS data.
"We've seen the trend go upwards for a number of years due to the state's economic downturn." He added Michigan's housing crisis had also been a reason for the high numbers.
HMIS data obtained from the Homeless Action Network of Detroit found there were 19,213 total homeless people in the cities of Detroit, Hamtramck and Highland Park in 2011, a decrease of 5 percent from 2010.
Hufnagel said the recent revitalization of Michigan's economy had helped bring numbers down.
But while homelessness may be decreasing across the state, the numbers of Michigan residents living in poverty are increasing. MLive reports that Michigan's poverty raterose from 13.5 percent in 2009 to 16.8 percent in 2010, according to the U.S. Census Bureau, the state's highest numbers since 1984.
According to Hufnagel, agencies have made efforts to get people into homes rather than shelters.
"Money is being used more effectively by agencies and communities," he said. "Organizations are working together in particular counties to address the issue of homelessness."
Families were the group with the biggest declines in homelessness, with an 8.7 percent decline. The amount of single individuals who were homeless fell 3.2 percent.
According to the report the decrease affected most of the state, with homelessness falling in six of Michigan's eight regions. The most significant decreases were 18.8 percen
t in South Central Michigan, 11.8 percent in West Central Michigan and 10.4 percent in the Upper Peninsula.
The data also showed that, during the last three years, 70 percent of those who made use of homeless shelters in the state did not return to them once they left.
Governor Granholm launched Michigan's Campaign to End Homelessness in 2006 as a 10-year effort to end homelessness in the state. The campaign includes over 60 partner organizations.
For more information visit www.thecampaigntoendhomelessness.org.
About Post Author