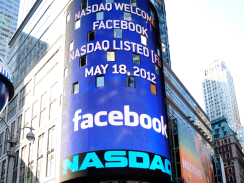 (MoneyWatch) Newly minted shares of Facebook (FB) were due to start trading at 11 a.m. ET Friday, but a trading glitch delayed the action. The IPO has sent investors scrambling for a piece of one of the hottest public offerings to ever hit the tape. CEO Mark Zuckerberg opened the NASDAQ exchange remotely Friday morning from the company's Menlo Park, Calif., headquarters. Priced at $38 per share but expected to zoom higher in the early going, the offering could raise $18.4 billion for the social networking web site.
The offering price also means the company is valued at $104 billion — and that's before any runup in the share price. Even the opening sticker price makes Facebook the biggest-ever valuation by an American company at the time of its offering and the second-largest U.S. IPO ever behind Visa.
At the $38 share price, Facebook ranks as the 36th company in the world, just above French petroleum company Total, and the 23rd largest U.S. company, as measured by stock market value (number of shares outstanding multiplied by the stock price). That makes it larger then Amazon.com and Cisco Systems. It doesn't rank quite so high when it comes to sales, however — Facebook is 909th in terms of annual revenue.
Facebook has 900 million users, and that number is growing. The question is how to make more money off of them. Right now the company reports "revenue per user" of $5.11, compared with $30 per user for Google.
But while there is much anticipation and excitement surrounding Facebook's initial public offering, it is unlikely that individual investors can actually obtain shares at the $38 offering price – generally, large institutional investors get first dibs on the offering price while private investors may end up paying a higher, market order price. The Wall Street Journal reported that trading firm Knight Capital Group had a client willing to pay $4,000 a share
About Post Author