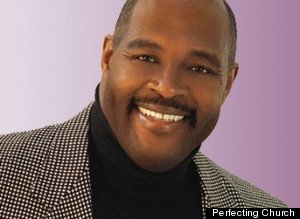 DETROIT (WXYZ) – Pastor Marvin Winans' SUV remains missing as of Thursday morning and so do the men who punched, kicked and robbed the famous gospel singer.
Winans' was pumping gas Wednesday afternoon at a Detroit Citgo station on the corner of Linwood and Davison when at least two men ambushed him.
The carjackers took his deep purple Infiniti QX56 SUV, a couple hundred dollars in cash and his watch.
The legendary pastor is well known in Detroit and for his family's gospel music. Winans recently gained attention when he gave the eulogy at Whitney Houston's funeral . He told 7 Action News that he did not believe his attackers recognized him.
Pastor Winans said he felt something was wrong when he came out of the gas station's convenience store.
He said several men followed him out and assaulted him while he was pumping gas.
They robbed him, punched him and even ripped off his pants. Pastor Winans says he's OK, but is more saddened that it has come to this.
"This kind of nonsense just has to stop," he said Wednesday afternoon. "It's just the savageness of what's happening in the streets. We just have to take a look at ourselves and say this has to stop," said Pastor Winans.
Winans went to a hospital Wednesday night to have his hand examined following the incident.
His left hand was bandaged as Pastor Winans spoke to WXYZ's Carolyn Clifford during an interview late Wednesday night.
"Given the gravity of the situation, it was minor," said Winans of the injuries he sustained to his hand. He said his finger would remain bandaged for about eight weeks.
Winans said he was disturbed that this happened "in the middle of the afternoon" and, at first, "nobody came to help."
In February, security cameras at another Detroit gas station recorded video of an 86-year-old man who was carjacked as others passed by and ignored him .
"Your life has to be bigger than sitting in a gas station and robbing innocent people," Winans said in a message to his carjackers during the interview Wednesday night.
Earlier this week, Detroit police told 7 Action News about a new trend in carjacking incidents in the city. They said some carjackers were using prostitutes to setup and distract victims .