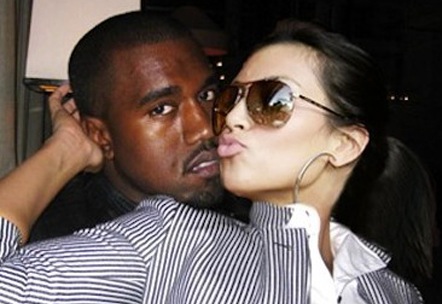 Two of the biggest, most shameless publicity grabbers in the history of show business are Kanye West and Kim Kardashian. The media makes a bad situation worse by feeding into their foolishness, though it is probably is giving the public what it wants — and how pathetic is that!
What could be more absurd than these two getting together? (You might have to think about it for a few minutes.) If dating West has a negative effect on the ratings of the Kardashian reality show, you can be sure that some changes will be made.
After all, this the same woman whose last marriage ended in less than three months. And let's not forget her explicit sex tape with Brandy's brother, Ray J., another short-lived relationship.
But then again, maybe Kim and Kanye are in love. Yeah, right — in love with publicity and controversy.
This relationship will last for as long as it is mutually beneficial.
SPEAKING OF relationships, we wish Janet Jackson the best on her upcoming marriage (this summer) to Wissam Al Mana, a businessman from Qatar, reportedly a successful one. (Until now I had never heard of Qatar. It's a country in the Middle East, next to Saudi Arabia.)
Hopefully there will be a prenup. And it said that Janet will have brother Michael's kids living with her and the new husband.
There is something uncomfortable about all this. For one thing, Middle Eastern men tend to be sexist. But maybe Al Mana is not.
And it is interesting to note that people in the Jackson family almost never marry or go with African Americans.
MAXWELL is embarking on what may be the world's shortest "concert tour." He will doing six days of shows, two in Los Angeles, two in Atlanta and two in Newark. Before and after some of the shows he will be selling merchandise, proceeds from which will go to Barack Obama's re-election campaign.
Sherri Shepherd's big mistake on "Dancing With The Stars," the one that got her voted off the show, was getting up on the table in front of judge Len Goodman, shaking her (very large) you-know-whats in his face. She's a sweet person with a glowing personality, and a good dancer, but that was a no-no that looked trashy. She just got carried away.
By the way, Sherri Shepherd looks like she could be one of the Clark Sisters.
Beyoncé Knowles wrote a letter to Michelle Obama, telling her that, among other things, the First Lady is "the ultimate example of a truly strong African American woman." Mrs. Obama was, of course, very flattered and quickly responded.
Congrats to Keith Sweat. He is celebrating the fifth anniversary of his syndicated radio show, "The Sweat Hotel." It is syndicated by Premiere Network.
Johnny Mathis fans are looking forward to June 7 because on that date the legendary star/icon will be performing at the Motor City Sound Board. One of the most excited is Evelyn Browne, the former Detroiter who now lives in Arizona. She was president of the Metro-Detroit Mathis Connection fan organization.
Nicki Minaj will introduce her new perfume this fall.
BETCHA DIDN'T KNOW…that in the 1950s there was a male vocal group (from Columbus, Ohio) called "the Supremes."
MEMORIES: "(I'm Going By) The Stars in Your Eyes" (the Dramatics), "Boogie On Reggae Woman" (Stevie Wonder), "I'm That Type of Guy" (LL Cool J), "The Best of Me" (Kiara), "I Like It" (DeBarge), "Don't Let It Go to Your Head" (Jean Carn), "A Woman, a Lover, a Friend" (Jackie Wilson), "Don't Play That Song" (Aretha Franklin), "Spirit of the Boogie" (Kool & the Gang), "Looking For a New Love" (Jody Watley).
BLESSINGS to Henry White, Bess White, Leonia Lloyd, Wanda Horton, Louis Cotman, Lydia Nance Adams, JoAnn Burkett and Georgette Jones.
WORDS OF THE WEEK, from Maya Angelou: "Love life. Give it your all. Life gives back, many times over, what you put into it."
Let the music play!
(Steve Holsey can be reached at Svh517@aol.com and PO Box 02843, Detroit, MI 48202.)
About Post Author