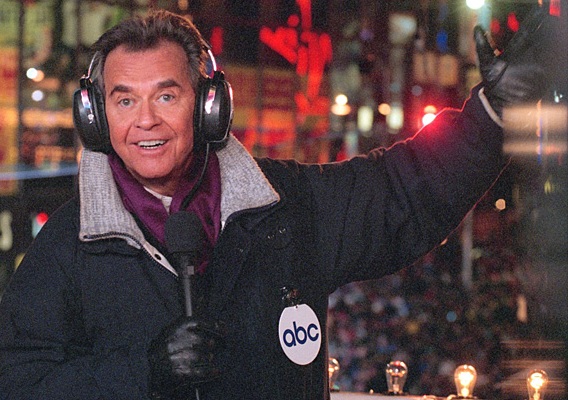 Dick Clark, the television icon who made his transition last week, once said, "Music is the soundtrack of your life."
That is as true as the importance of Dick Clark to the history of rock and roll and, by extension, rhythm and blues.
The impact of "American Bandstand" would be impossible to overstate. Without "American Bandstand," which Dick Clark said he thought of as his fourth child, there would have been no "Soul Train," not to mention the hundreds of dance-and-entertainment shows that emerged in the 1950s, 1960s and beyond.
Back in the day they were called "dance party" shows, and Detroit had several, including "Swingin' Time," "The Real Side," "Club 1270" and "The Scene."
NONE OTHER than Don Cornelius, creator and host of "Soul Train," acknowledged that "American Bandstand" is where it all began, and that Dick Clark "did it first." Cornelius, of course, added a "soul dimension" to the genre, with "Soul Train" becoming as iconic as "American Bandstand."
How ironic that Clark and Cornelius would pass in the same year. In a sense it's like the end of an era, but an era with an impact that reverberates today and will continue to do so into infinity.
And, of course, "New Year's Rockin' Eve" won't seem the same without Dick Clark, who began hosting the show of his creation in 1974. (One show of many.) However, in recent years it had been painful to watch and hear Clark, a stroke victim, as he continued to make his midnight cameo appearance to ring in the new year in Times Square.
BUT GETTING back to Dick Clark and "the Bandstand," there are thousands of anecdotes and lengthy stories about the venerable host and business tycoon who admitted to being a workaholic who wouldn't have it any other way.
One of those stories involves the Dick Clark Caravan of Stars, a bus tour that traveled extensively, featuring perhaps as many as ten acts. (Clark never traveled by limo or plane; he rode the bus with the artists.)
That was in the 1960s when racism was far more blatant than it is today, all the more so in the South.
On one occasion in a southern city, Clark attempted to check all of the acts into a hotel and was told firmly that he and the White acts could stay there but not the Blacks.
Well, Dick Clark wasn't having that. He informed hotel management, with equal firmness, that if the Black artists would not be rented rooms, then no one involved with the Caravan, including himself, would be staying there.
That hotel lost what would have been a substantial amount of money.
CLARK WAS among those who championed Black music, and never hesitated to acknowledge the fact it was from Black roots that rock and roll developed. To put it more bluntly, there would be no rock and roll — or rock — without rhythm and blues.
Fats Domino, a regular "American Bandstand" attraction in the early days, stated, "What they're calling rock and roll is just rhythm and blues. I've been playing it all my life."
While it is true that "American Bandstand" was a very "White" show in the 1950s and early 1960s, aside from the many Black recording artists who apppeared on it, one has to consider the times.
By the mid-1960s things had changed considerably, and there were plenty of Black dancers on the show, many of them regulars. The first Black "super couple" on "American Bandstand" was Famous Hooks and June Strode, still fondly remembered today by "Bandstand" enthusiasts
In the "American Bandstand" dance contest in 1966, featuring dancers from all over the country, a brother and sister couple from Detroit, Lester and Leslie Tipton, won first place. (They were regulars on "Swing-in' Time.")
IN THE 1970S, a number of popular dancers from "Soul Train," including Patricia Davis and Lil' Joe Chism, began dancing on "American Bandstand" while continuing on "Soul Train." Don Cornelius was not pleased, but since no one was under contract, the dancers could go where they pleased. And Cornelius had no intention of banning them from "Soul Train" because they were such an important part of the show.
"Soul Train's" most famous dancer, Damita Jo Freeman, actually left the show completely and subsequently becoming a major attraction on "American Bandstand."
One would be hard-pressed to name any popular recording artist from 1957 to 1989 who did not make an appearance, or multiple appearances, on "American Bandstand" — rockers, R&B singers, teen idols, vocal groups, crossover country acts, pop artists, etc.
The guest performers included the Jackson 5, Chubby Checker, Madonna, Frankie Valli, Lionel Richie, Grace Jones, Tony Orlando & Dawn, Prince, Sheena Easton, Aretha Franklin, Steely Dan, Marvin Gaye, Roy Orbison, the Spinners, Paul Anka, Three Dog Night, Deniece Williams, Barry Manilow, Natalie Cole and on and on it goes, literally numbering into the thousands.
Clark had a special affinity for Motown and regularly booked artists from the Motown roster, such as the Miracles, Gladys Knight & the Pips, the Temptations, Marvin Gaye and the Supremes.
His personal favorite period, among many, was the disco era of the mid-1970s to the early 1980s because people were dancing and just having a good time. It was a fun atmosphere. In fact, Donna Summer, the queen of disco, was the only performer to ever co-host "American Bandstand" with Dick Clark.
On a personal level, I grew up watching "American Bandstand." Dick Clark was one of my favorite people, and meeting him in the early '80s was a special honor that meant a lot to me. He was very cordial, just as I had expected.
Dick Clark was a class act.
About Post Author