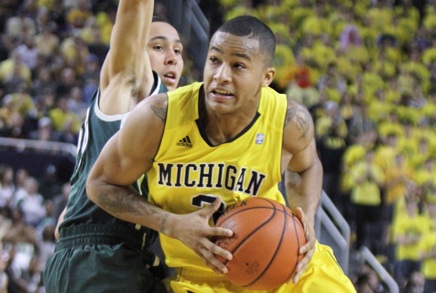 Both the University of Michigan and the University of Detroit Mercy men had basketball seasons to remember, but both were dealt a knockout in their first NCAA Tournament contest.
Detroit, led by Ray McCallum Sr. and Jr. produced a stellar campaign that saw the Titans win the Horizon League conference tournament title, and with that title came an automatic bid to the NCAA Tournament against No. 2 seeded Kansas. The Horizon League Tournament title was the first for Detroit Mercy since 1999. Detroit finished its season at 22-14 and seems ready to keep it up next season.
"My players and staff knew how good Kansas was," Ray Sr. said. "Their top five or six players are as good as any in the country. It did not help that we did not play our best game either. We are a better team that we showed to the country."
Detroit Mercy was confident before its second-round NCAA Midwest Regional game against Kansas. The 15th seeded Titans were on a five-game winning streak and had the swagger to play with Kansas. However, after taking an early lead, 21-19, the Jayhawks overpowered the Titans, and concluded with a resounding 65-50 victory.
"This was big for us, you know, going through the season with all the things that we had to go through," Ray Sr. said. "We had to fight through adversity, guys getting hurt and then, you know, we figured out how to play together as a team.
"We figured out how important defense is for our team to win and we learned how to win a championship and that was our overall goal this year and to get to the NCAA tournament."
McCallum will be the key to everything next season and he is ready to take on that challenge.
Michigan shook most of college basketball with its run through the Big Ten that led to a three-way tie for the league title along with Ohio State and Michigan State.
It was a disappointing one and done for the Wolverines as they lose to Ohio 65-60 in the second round of the NCAA tournament's Midwest Regional.
No matter. The Wolverines produced a season to remember. Winning its first Big Ten title since 1986. Led by freshman guard Trey Burke, Michigan had high hopes coming into the NCAA Tournament.
Unfortunately senior guards Zack Novak and Stu Douglass picked the wrong time to have subpar days.
Still, Michigan (24-10) has a shot at winning the contest, but Evan Smotrycz lost control of the ball in front of the Wolverines bench as time ran out.
UM's biggest future problem is the possibility that Burke might go to the NBA.
"Well, not right now," he said. "I'm not really thinking about that. I'm so disappointed in the way we lost, it's not really in my mind right now. If it comes, it comes. You've just got to move on, man. It definitely hurts. The only thing on my mind is losing that game."
Burke had a tremendous season, but he appeared to wear down in the Big Ten and NCAA tournaments. One more season to strengthen himself in the weight room would probably help him.
Both UDM and U-M have great upsides and 2012-13 should be good seasons. Each university is bringing in some fresh faces and should be able to withstand the loss of a number of key seniors.