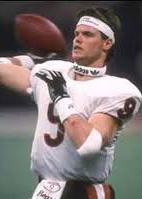 Okay, football, especially in the NFL, is a very violent game. It is a first cousin to the Roman Gladiators, who fought so gallantly against lions and each other in the Colosseum.
Sure we have stepped up the humanity and have taken the lions out of the contest and the gladiators no longer have to kill each other at a king or queen's behest.
There are now rules and referees that oversee the on-field carnage, but make no mistake about it, football is a contact sport. There is Hall of Famer the late John Mackey, who passed prematurely with frontal temporal dementia. Or ask former Chicago Bears quarterback Jim McMahon, who is experiencing early dementia.
So when the word came out recently that the New Orleans Saints had a well known bounty system, I can understand the outrage. It is reported that the Saints bounty scandal operated between 2009-11 and involved 22 to 27 defensive players.
The NFL and NFL Players Association both are investigating a system that rewarded players for hard hits and injuring opposing players. Both the NFL and union vowed to "vigorously protect the rights of all players" and dispense out appropriate discipline.
"If the facts prove that players voluntarily and willingly participated in conduct that jeopardized health and safety, we will work with them and the league to put in place additional safeguards to prevent this in the future," union leaders noted. "Dangerous play and acts on the field by players intended to injure have no place in football. We must do better to ensure that this activity is not a part of our game."
Former Saints defensive coordinator Gregg Williams admitted to running a bounty pool of up to $50,000 over the past three seasons, rewarding players for knocking targeted opponents out of games. Williams is now defensive coordinator of the St. Louis Rams. Current Saints head coach Sean Payton and general manager Mickey Loomis have acknowledged the existence of the bounty system.
According to the NFL reports, "knockouts" were worth $1,500 and "cart-offs" $1,000 — with payments doubled or tripled for the playoffs. The NFL said the pool amounts reached their height in 2009, the season the Saints won the Super Bowl.
I cannot condone intentionally trying to hurt players, but isn't that what linebackers and safeties do? They try to knock the daylights out of a receiver or running back so he will be looking for a hit instead of catching the ball or hitting a hole with unabated speed.
I get the morality bit and the image of the game, but let's keep it real. The NFL is not a place for the delicate or the fragile. Never has been (with shout outs to Sam Huff, Dick "Night Train" Lane, Deacon Jones, Dick Butkus, Mike Singletary and Vince Lombardi) and never will be.
It is naive to think players and teams don't talk about this kind of stuff, or aren't generally rewarded with jobs and contract extensions for this stuff. Those who think that way are not paying attention to the inherent violence of this game.
The gridiron is not a polka dance or knitting contest. It's territorial and can get bloody. Players and coaches know they can win games by inflicting pain, and the intent is always to win games, so imposing pain is a goal of every defensive player bounty or no-bounty system.
Yeah, I know the bounty system looks bad. No one should be out to hurt another athlete for the sake of money, but on the other hand, isn't that what everyone gets paid to do. It's wrong, but it happens.
The late Raiders owner Al Davis said, "The quarterback must go down, and he must go down hard." He was brutally honest and he was right. That's not dirty. That's just the sport — survival of the fiercest. If you get hurt, you lose. Great defenses are angry defenses that inflict hurt on offensive players trying to break their will.
I've been around football too long to think otherwise.
Leland Stein can be reached at lelstein3@aol.com or at Twitter @lelandsteinIII.