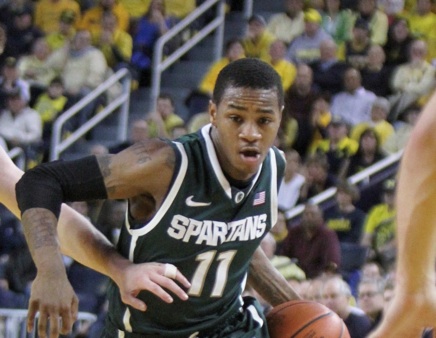 COLUMBUS, Ohio — In the third round at the West Region of the NCAA Men's Basketball Championships, the No. 1 seeded Michigan State Spartans outlasted the No. 8 seeded St. Louis Billikens 65-61.
The Spartans' victory gave them a trip to the Elite 8 and set up a matchup of two future Hall of Fame coaches, MSU's Tom Izzo and Louisville's Rick Pitino.Both have won NCAA titles. Izzo has now led his Spartans to their 10th Sweet 16 since 1998.
MSU won an ugly slugfest against St. Louis and as a result many prognosticators proclaimed that the Spartans would not be able to beat Louisville, especially with the loss of 6-foot-5 freshman Branden Dawson, who is sidelined with an ACL injury. His inside presence surely will be missed as the Spartans advance in the tournament, but will that stop MSU's quest?
With senior Draymond Green putting himself in the exclusive company of being only the third person to produce two triple doubles in NCAA tournament history. The other two were Oscar Robertson and Magic Johnson. There is no doubting that the Spartans following Green's lead have the juice to keep their run going.
Give Coach Rick Majerus' Billikens credit for their game plan and scrappy play. Most rational individuals would respect the fact that St Louis just wouldn't go away, hitting late 3-pointers to keep the game interesting and using timeouts to extend it. Majerus wasn't going to fade away, and he did an admirable job managing what little time he had left.
"That was one of the tougher games we've played in," Izzo said. "But you've got to give our guys credit, too. We didn't pretend to be God's gift to basketball. We know we're a working man's group. And we had to work today."
Credit MSU and former Pershing Detroit Public School League (PSL) hoopster Keith Appling, who answered the bell at crunch time. Appling busted a 3-pointer from the right corner that gave the Spartans their margin of victory. With Michigan State's season in peril, Green turned to Appling during a timeout and told him to be ready. His moment was near. And when it arrived, Appling delivered.
"I don't need to be a hero trying to make some scoop layup," Green said of his decision to pass up a shot. "If I see a guy open, I'm going to hit him. He was wide open in the corner and I knew once he caught the ball, it was going in. I didn't try to get the rebound. I ran down the court. I already knew it was going in."
Appling scored a team high 19 points for the Spartans in a game where St. Louis dared him to shoot.
"All night they pretty much had me begging to shoot the ball," Appling said. "We got in the huddle in one of our timeouts and Draymond told me I was a 41 percent 3-point shooter last year, so shoot the ball. We drew up a play for him, and the defense collapsed and I was wide open. He hit me with a pass that was perfect, right in my shooter's pocket, and I was able to knock it down. As soon as it came off of my hands, it felt good."
After Michigan State lost its first two games this season to North Carolina and Duke, there were some who wondered if this squad would recover and live up to the school's high standards, the ones set by players such as Jason Richardson, Magic Johnson, Greg Kelser, Mo Peterson, Steve Smith, Charlie Bell, Scott Skiles, Jay Vincent, Shannon Brown, Maurice Ager and Mateen Cleaves, just to mention a few.
There's no deliberation anymore. Michigan State is more than legitimate and the Spartans can win with any style. Make them run and they'll run. Slow them down and they'll crawl. Start a fight and they'll finish it. They know what it takes.
"We all stuck together," Green said. "That's how we won."
And what it will take if they continue to win.