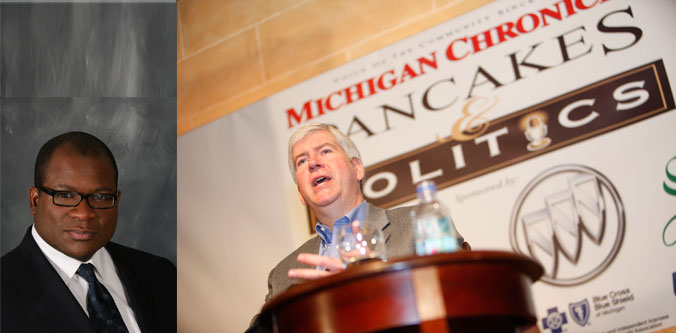 Over the course of the past few months we have all been aware that this day was coming. With the governor's Consent Agreement looming, we find our city and region in the midst of a political and financial
crisis.
Even those of us who have confidence in our mayor knew that the city's problems were just too massive and complicated
to resolve without some outside assistance.
The truth is, Mayor Dave Bing did not create this problem, as Gov. Rick Snyder discussed at the recent Pancakes & Politics forum. Rather, he inherited a painfully broken city and this financial crisis has been looming for decades.
Bing knew when he accepted the job of leading the state's largest city that it would be a major challenge, and he has accepted that challenge.
Given the resources the mayor has to work with, I believe that he and his staff have fought a good fight. Certainly I, as a city resident, would like to have better city services and a much safer environment in which to live and work. But because the mayor has been upfront regarding the challenge, I, like so many others, remain patient because we believe in Detroit and want to be a part of its renaissance.
But yes, there is the other side. Those of us who interact with Gov. Snyder also know that he truly wants the city of Detroit
to succeed. He wants the mayor and the City Council to develop a viable plan that restores financial confidence and creates a path to solvency. Snyder has told everyone who cares to listen that he does not want to "take over" Detroit.
Quite frankly, I believe him. Who would want to create such a fight in the midst of the state's economic upswing and in the middle of such a critical election year?
Call me crazy or naïve, but I believe the governor when he says Michigan will not be successful until Detroit is successful. We all know it to be true, but it still feels good to hear others acknowledge that fact.
Under different circumstances, the two successful businessmen we have in Mayor Bing and Gov. Snyder would make a formidable duo to shepherd in the type of change our city needs. How­ever, even with these two good men and all of their good intentions, there is no denying what lies ahead.
Mr. Governor, we know that you have a job to do. We know that you cannot just sit idly by and watch the state's larg­est city fall into bankruptcy. We know that as the chief executive officer of the state of Michigan, you have an ethical, legal and fiduciary obligation to protect all of the state. But as you contemplate this historic, monumental challenge to democracy with all of its nationally constitutional implications, allow me to provide you with some food for thought.
1. Keep real Detroiters empowered and at the table.
2. Remember that Detroit just recently elected five new council members; the citizens spoke loudly and wanted new voices. Now that we have them, they should not be stricken silent. If brought to the table properly, they could become great partners in executing your plans.
3. Once you decide to move forward with the Consent Agreement or emer­gency manager, move swiftly. Get in, fix the problems, and get out fast.
4. Keep your plans transparent and give city residents firsthand, person-to-person face time. Host town hall meet­ings, community hearings and whatever else is necessary to help residents un­derstand your plan. You will without a doubt have a tough crowd but people will appreciate your doing so and respect the feedback.
5. Get some quick wins. Fix the street lights, fix EMS, fix the bus system.
6. Throughout it all remain mindful that the resistance you will receive is be­cause Detroiters have been bamboozled in the past and many feel they are under siege.
Above all else, we want you to under­stand that we want the same things as every other Michigander — good schools, safe neighborhoods and first-rate city services. In the spirit of cooperation and collaboration, we will prevail.
Now, let's get to work.