PNC Bank honors Arthur Johnson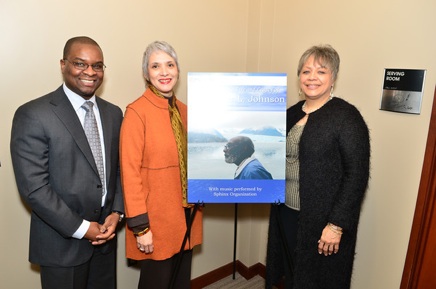 On Feb. 24, the late Dr. Arthur Johnson, a civil rights pioneer, was honored at PNC Bank in Troy.
Johnson, who died Nov. 1, was a former president of the Detroit Branch NAACP. He also served as a professor and vice president of community relations at Wayne State University for more than two decades.
Among his achievements, Johnson established the first chapter of the NAACP at Morehouse College, working alongside classmate and friend Dr. Martin Luther King, Jr. In Detroit, he established the Fight For Freedom Fund Dinner, now one of the largest such events in the world. He also became deputy director of the Michigan Civil Rights Commission in 1964, and in 1967 became the first African American assistant superintendent in the Detroit Public Schools.
The event was part of PNC Bank's Black History Month celebrations. Ric DeVore, regional president of PNC Bank, called it a special opportunity to honor Johnson.
DeVore said the Detroit NAACP membership was at about 6,000 in 1950 when Johnson came to the city, and that Johnson grew that in 10 years to 60,000 members.
Johnson was at Wayne State for 23 years, during which time he started the Detroit Festival of the Arts and the Arts Achievement Awards.
Michigan Chronicle Interim Publisher Hiram Jackson said the world lost several African American pioneers last year, including Chronicle Publisher Sam Logan, Dr. Claud Young and businessman Don Barden.
"But none of them were bigger than Dr. Johnson," Jackson said.
Jackson related how some 20 years ago, shortly after he graduated from college and was working at Ford Motor Company, the mother of the woman he was dating said he needed to get involved in the community.
She subsequently introduced him to Dr. Johnson, then president of the Detroit Branch NAACP. Jackson said it was the greatest thing that ever happened to him.
Johnson asked Jackson where he went to school and what he wanted to become. Jackson answered that he wanted to be an entrepreneur and businessman.
"He said you'll be none of that unless you get involved in a position where you can help your people and lift folks up," Jackson said. "We talked for about thirty minutes about that and I said, 'Mercy. What do you want me to do?'"
Johnson immediately put him on the board of the Detroit branch, and made him chair of the Young Adult Committee.
Jackson said he couldn't say no as he was "intimidated and scared" of both Johnson and his partner, Judge Damon J. Keith.
"They put me to work, and it was the stepping stone for me and building my career, and doing all the wonderful things I've been able to do over the last 20 years," Jackson said. "In terms of meeting international leaders and business people, it all started there. A foundation I was able to build from that introduction from this wonderful man."
Jackson, who will co-chair the Fight for Freedom Fund Dinner this year, teased the audience at PNC Bank about the "very special" keynote speaker.
Chacona Johnson, Dr. Johnson's widow and president of Detroit Public School Foundation, thanked DeVore for PNC Bank's support. She also said Dr. Johnson believed that an individual has to do a little more than is required, whether at home, in one's profession, or in extracurricular activities.
"That wasn't about your organization where you worked or about your school," she said. "It was about being a whole person. It was being a better human being. That's how he led his life and why he had impact on people."
She encouraged PNC employees to go the extra mile.
"That will come back to you," she said. "And when you do that you will feel better, and you will know that you are living out a legacy that my husband believed in, and I will greatly appreciate that."
Music was provided by student members of the non profit Sphinx Organization. Aaron Dworkin, Sphinx founder and president, credited Chacona Johnson with helping to architect what was initially a $40,000 grant to launch the Sphinx Organization, that encourages Black and Latino participation in classical music, at the University of Michigan in 1996.
"There's no doubt that absent of that, the Sphinx Organization simply wouldn't exist," Dworkin said.
Dworkin also offered a quick snapshot of why he does work involving diversity. Born in Monticello, New York, he was adopted as an infant by a Jewish couple. Years later, he reconnected with his birth parents. He learned that his birth father was a Black Jehovah's Witness and his birth mother was a White Irish Catholic.
"So, basically, I'm a Black, White, Jewish, Irish, Catholic, Jehovah's Witness," he said. "This is why I work in diversity."
Dworkin also said Dr. Johnson offered him encouragement when he felt stressed, telling him not to give up, that what he was doing was too important.
At the conclusion of the ceremony, Chacona Johnson received flowers and a plaque commemorating the event.