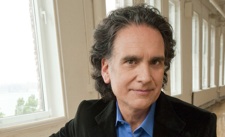 On March 5, Peter Buffett, Emmy Award-winning composer, best-selling author, and philanthropist, and the son of famed investor and advisor to President Barack Obama Warren Buffett, will perform at the Max M. Fisher Music Center Orchestra Hall to benefit the American Kidney Fund.
The anticipated concert, "Life Is What You Make It: A Concert and Conversation with Peter Buffett," is being presented by Ora's Alliance, an organization founded by former Detroiter Dr. Greta Manning in honor of her mother who died of kidney disease in 2006.
Michigan Chronicle editor Bankole Thompson is the chairman of the event, and Detroit Medical Center's chief administrative officer, Conrad Mallett Jr., will serve as co-chair of the event.
Manning, a University of Michigan trained physician who lives in Tennessee, said the American Kidney Fund is a grassroots organization that directly benefits patients and helps them with gaps in medical care.
Buffett decided to do the show in Detroit because Ora's Alliance is an organization that has a meaningful mission to alleviate the sufferings of those with kidney problems. By being part of such a noble cause, he said it becomes a learning curve for him as well.
"Frankly, I end up learning things about issues or organizations or even areas I've never visited before by doing things like this," he said. "I enjoy it when I can do it."
The concert will include some of Buffett's personal stories.
"What happened, frankly, was that I was occasionally speaking and playing around the issue of having a famous father," he said. "People, as I grew up, would say 'you're Warren Buffett's son; you're so normal.' I thought that was very kind, but I didn't quite understand why I wouldn't be normal."
He said that as he learned more about the assumptions people had about himself and how he was raised, he realized that maybe by telling his story it could change some definitions around success and privilege.
"I started to do it more and more, and it seems to resonate, actually, regardless of background," he said. "So that's what the show comprises for the most part. It's just my own story, and how I ended up being a normal guy."
Asked if there's going to be anything in any of the presentations that inform or educate people about kidney disease or if it's going to be simply entertainment, Buffett said it's somewhere in the middle.
"I don't specifically talk about kidney disease or the fund, but I do talk about my own journey in terms of realizing the value and importance of giving back and connecting to people that otherwise I wouldn't necessarily know anything about," he said.
Buffett also said he talks about how we can all play a role in other people's lives in some way, and how valuable that can be.
"That is a running theme in the show, and, of course, in many places I go it resonates in different ways," he said. "In this particular case, of course, it resonates in the sense that by supporting this cause and understanding the disease more, you might be inclined to help out in some way. So that's really how the two are connected."
Asked what he wants people to take away from the event, beyond enjoying the concert for its entertainment value, Buffett said he thinks most people take away the sense of reflecting on their own lives and the choices they've made.
"Are they getting up in the morning really being excited about what they're doing?" he asked. "Do they want to think differently, maybe, about the choices they're making, either in terms of their daily lives or how they interface with the world around them? Often, I hear that people are moved to tears by the end of the show. "
Buffett said he hopes and believes it is and can be a life-informing show. It really gets people thinking.
He knows a few people who have been affected by kidney disease.
"So I do know how debilitating it can be," he said. "But at the same time, people can get on with their lives if given the proper care and treatment."
Manning said some kidney disease is caused by genetics, but the bulk comes from people with diabetes or hypertension. She said both, if well controlled, will help to prevent kidney disease.
"The issues are that it is so prevalent in our community, no matter your race, color or creed," she said. "And the kidneys are such a delicate organ that once they become weak, or start to fail, we really can't do anything. There's nothing else to do except to start dialysis or try to find a transplant."
The latter is very hard to do.
Buffett said he was surprised at how many millions of people have kidney disease.
"Twenty-six million people have it, and another 57 million are at risk," he said. "Those are huge numbers, and I had no idea that was true."