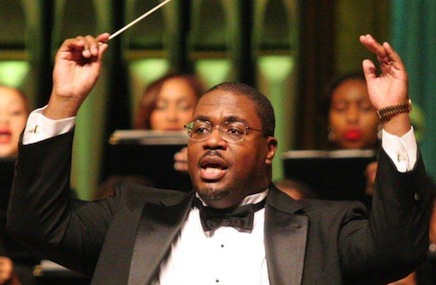 On March 7, at 7 p.m. the Detroit Morehouse College Alumni Association will present a scholarship fundraiser featuring the Morehouse College Glee Club. The event will take place at Greater New Mt. Moriah Missionary Baptist Church, 586 Owen St. in Detroit.
Last year, the Morehouse College Glee Club celebrated its 100th anniversary. The celebrations culminated with a concert at Avery Fisher Hall in October. It has continued in this tradition through the dedication and commitment of its members and the leadership that its directors have provided throughout the years. It is the mission of the Morehouse College Glee Club to maintain its standard of musical excellence.
In 1911, Morehouse College, which was then Atlanta Baptist College, had a music professor named Georgia Starr. She served the college from 1903-1905 and again from 1908-1911. Kemper Harreld assumed directorship and officially founded the Glee Club when he joined the college's music faculty in the fall of 1911. Harreld became director of the Glee Club and chairman of the Music Department. After serving for 42 years, he retired in 1953. He was responsible for initiating the Glee Club's strong tradition of excellence and passing it on.
Wendell Phillips Whalum, Sr. in 1952 took the helm as the Glee Club's second director. Dr. Whalum was a prized student of Kemper Harreld and had served as student director during his tenure in the Glee Club. Dr. Whalum, more commonly known as "Doc," served Morehouse College and the Glee Club with the continued tradition of excellence until his passing on June 9, 1987. From 1961 to 1963 Albert T. Perkins served as interim director while Dr. Whalum finished coursework for the doctoral degree.
In the fall semester of 1987, David E. Morrow, assumed directorship of the Glee Club. He was a prized student of "Doc." He was also a scholar at Morehouse College, graduating Phi Beta Kappa in 1980 as valedictorian. He earned his master's degree in 1981 and then returned to his alma mater as a part of the music faculty and as assistant director of the Glee Club.
During the 1992-1993 school year, Harding Epps, served as interim director while Dr. Morrow finished the coursework for the doctoral degree.
On January 18, 1993, the Glee Club, as part of the Morehouse-Spelman Chorus, sang at Atlanta's Symphony Hall with soprano Jessye Norman in a concert celebrating the Martin Luther King, Jr. holiday. The Glee Club also performed the National Anthem with Natalie Cole for Super Bowl XXVIII. They participated with Stevie Wonder, Gloria Estefan and Trisha Yearwood in the opening and closing ceremonies of the 1996 Centennial Olympic Games held in Atlanta.
In February 2002, the Glee Club performed for the Witness Concert with the Plymouth Music Series and premiered the work of "Dreams and Other Possibilities," written by Patrice Rushen. In 2004, the Glee Club performed with Take 6 at the Rialto Theater in Atlanta. In 2008 the Glee Club recorded the spiritual "He's Got the Whole World in His Hands" for Spike Lee's movie "Miracle at St. Anna."
Earlier that year they performed with mezzo soprano Denyce Graves. the inaugural concert for Morehouse College president Dr. Robert Franklin. For that occasion we also premiered the work And There Was Light by Uzee Brown. In October 2009 the Glee Club, as part of the Morehouse-Spelman Chorus performed with Aretha Franklin for the 88th Birthday Tribute to the Rev. Dr. Joseph