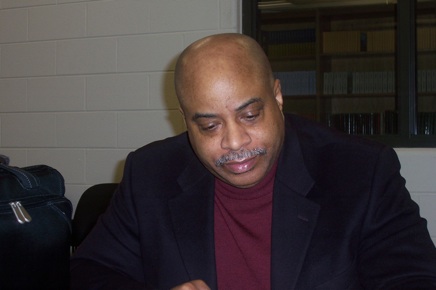 Malcolm X, the legendary leader and human rights icon, stated that reading one book can change a person's entire life; for Brook Ellis (who at the time was languishing in a federal prison for bank robbery) the book was Reginald Lewis's fascinating autobiography, "Why Should White Guys Have All the Fun?"
In it Lewis recounts how although born into poverty in a segregated section of Baltimore and raised by a single parent, he went on to excel in school, becoming a Harvard educated lawyer, and in business by designing the leveraged buyout of the billion dollar international company, Beatrice Foods.
When Ellis read Lewis's life story he was infused with tremendous inspiration and encouragement, and he credits it with opening up new realities and life-affirming avenues for him and for others. Moreover, he believes his vision and program can have the same empowering effect for thousands more.
His goal is to create a pilot model of academic excellence based on the study of Lewis's life and apply it at Detroit's Martin Luther King Jr. High School. Once it takes root and thrives there, he plans to implement it in other high schools throughout the city.
He believes his program can transform areas of the city — infamous as poverty and homicidal hot spots — into learning, discovery and academic achievement zones.
"What I'm doing today is trying to help African- American males to close the academic achievement gap," said Ellis. "There is a big academic space between what our young students are doing relative to European, Asian and Hispanic students. It's a sad narrative that when you break down the four basic ethnic groups — Anglos, Asians, Hispanics and Blacks — as it relates to academics and scholarships, we are coming in dead last. And as an African-American I don't believe that we were innately born to come in last place."
Ellis's project (which he plans to launch in late March) is the Reginald Francis Lewis Reading Academy (RFLRA) and in partnership with school principal, Dr. Deborah Jenkins, they will pool energy and resources at Martin Luther King Jr. High to develop through reading, writing, and other academic and social exercises, 30 student candidates with the acumen, skill and character to be enrolled into several prominent universities. To qualify each student must acquire and maintain a GPA of at least 3.75 and submit an essay on Lewis's life and legacy. Winners will be admitted into a no-nonsense seven-week college readiness program (four weeks at Michigan State University's High School Summer Scholars Program and three weeks at the University of Michigan).
RFLRA will not only engage students but will reach out to the parents of those students as well. Parents (or guardians) will be required to sign a household literacy and civic responsibility pledge. And students' families will be educated on the mindset, activities and habits that propelled Reggie Lewis from one of Baltimore's most deprived and despised neighborhoods to the apex of academic and business excellence and accomplishment.
"I think our failings have a lot to do with our culture and our nurturing," he said. "Not our nature, but our nurturing. When we group up in our households, if our parents instill and are adamant about certain things then you grow into that, and that's how you comport yourself in the world. We didn't come from a people that were non-performers when it came to achievements."
It is a testament to the power of an idea whose time has come that Ellis, when his program was still only a vision in his heart and mind, happened upon Mrs. Loida Lewis (wife of Reginald Lewis) while driving down Fifth Avenue in New York City. She'd given her chauffer the day off and Ellis, recognizing her from her pictures in Lewis's book, stopped and offered her a ride. Amazingly she accepted.
"She gets in my car, and I drive her from 57th and Park Avenue to 33rd Street," explains Ellis. "As I'm driving I make a wrong turn and we wind up in a tunnel under Grand Central Station, and I'm trying to let her know that I don't mean her any harm-I'm just nervous and disconcerted and she told me, 'I'm not worried about you harming me; if you read my husband's book, you would never want any harm to come to me.' Her point was if you read Reggie, if you know Reggie's life, you would never want anything but good to happen to her."
Ellis and Mrs. Lewis forged a friendship and she provided start-up funding and expertise for what eventually became the Reginald Francis Lewis Reading Academy.RFLRA has also received event support from NASA which has offered to send representatives, engineers and astronauts to Detroit to participate in the program.
For more information contact the Reginald Francis Lewis Reading Academy at (313) 549-0080 or via email at bbyronellis@sbcglobal.net
Steven Malik Shelton is a Detroit-based journalist and human rights advocate. He can be reached via e-mail at malikshelton19@aol.com.