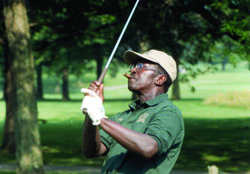 Sam Logan's Family issued the following statement yesterday in regard to his death:
"It is with deep regret that we announce the death of our father and grandfather Samuel Logan, longtime and legendary publisher of the Michigan Chronicle. At 78 our father lived a fulfilled life of service to Detroit and this nation. We thank everyone for their prayers and support at this time of grief."
Funeral arrangements are listed below.
In lieu of flowers, the family encourages donations to:
Hospice of Southeast Michigan
Mariners Inn
Focus Hope
---
Visitation
Wednesday, January 4, 2012
Noon – 9pm
Swanson Funeral Home (Northwest Location)
14751 W. McNichols (East of Greenfield)
Detroit, MI 48235
Thursday, January 5, 2012
10am – 9pm
Swanson Funeral Home (Northwest Location)
14751 W. McNichols (East of Greenfield)
Detroit, MI 48235
Friday, January 6, 2012
10am
Greater Grace Temple
23500 W. Seven Mile Rd.
Detroit, MI 48219
Services Scheduled for Michigan Chronicle Publisher Sam Logan
Interim Publisher named
The Michigan Chronicle announced Thursday funeral services for Publisher Sam Logan will be held on Friday, January 6, 2012 at 10:00 a.m. at Greater Grace Temple located at 23500 W. Seven Mile Road in Detroit. Rev. Charles Adams, pastor of Hartford Memorial Baptist Church, will officiate the funeral.
The longtime publisher passed away unexpectedly Wednesday at the age of 78.
At the same time, the paper announced that Hiram E. Jackson, chief executive officer of the Chronicle's parent company, Real Times Media, will serve as interim publisher of the Chronicle to assure a smooth and orderly transition in leadership at the paper.
"It is with profound sorrow that we confront the passing of our friend and colleague, Sam Logan" said Larry Crawford, chairman of the board for Real Times Media. "No words can adequately express our sadness. We will honor his memory by continuing to grow the newspaper he loved so much.
"The first step in that process is naming Hiram Jackson as interim publisher to assure that Sam's mission of publishing a vibrant newspaper that serves Detroit is carried on."
"The state of Michigan has lost a giant," said Jackson. "Sam's dedication to the Michigan Chronicle was matched only by his passion for tackling tough issues for the betterment of the community to which he dedicated his life.
"I am humbled to be asked by the board to carry on his mission on an interim basis. I do this knowing that Sam's first order to all of us at this time of great sorrow and loss for all of us would be to focus on continuing to get his newspaper out on time. We are going to do that."
As publisher of the Michigan Chronicle for more than four decades, Logan was no stranger to controversy. He often unabashedly expressed strong views on hot-button issues. He was most known for being a leading voice on many critical matters such as Detroit Public Schools, race relations and the future of Detroit. He was once quoted as saying, "I don't worry about whether you agree or disagree or whether you like it. All I want to know is when I put something in writing, are you thinking? And if you're thinking, then I've accomplished my objective."
It was Logan's conviction to being tough yet fair that made him a journalistic icon not only in Michigan but throughout the Black Press.