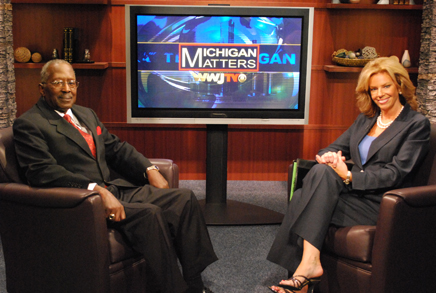 Somehow heaven just got a bit more interesting with Sam Logan's arrival Wednesday as the iconic 78-year-old publisher of the Michigan Chronicle transitioned from this world to the next.
How could it not be the case?
Mr. Logan, a beloved father and grandfather, impacted the Motor City and state of Michigan as few other individuals have during a 40-year career at the storied Michigan Chronicle and its sister paper, The Michigan FrontPage.
He impacted the region and state with his bold leadership and vision of a stronger city, one where the gap between rich and poor, black and white dissipated. One where Detroit Public Schools prepared all of our young people for the competitive global marketplace.
Through the years, Mr. Logan walked and talked with U.S. presidents, CEOs, world leaders, powerful religious and community leaders.
He was equally as comfortable at a community center on the east side of his beloved city talking to young people or seniors about issues confronting the African American community.
To Sam Logan, it was a matter of helping and doing what he could to make this city, region and state a better place.
He was also a beloved friend and mentor whose impact will forever be etched in my heart and in my soul.
In the often rough and tumble world of journalism, where legends are few and one's heart often left on the roadway by the endless focus of glaring 'gotcha' headlines to sell papers or gain viewership, Mr. Logan kept his focus on simply helping.
Sometimes that meant putting a spotlight on issues that others might have decided wouldn't sell papers like bragging about a children's club helping the community.
But Mr. Logan was no pushover. He had a keen sense of news.
Because of his stewardship, the Chronicle dominated coverage about corruption in Detroit Public Schools a few years ago. He led the paper to score front page stories that led to criminal court cases.
He took no delight in that. Nor did he try to win journalism awards for it. Instead, Mr. Logan took comfort knowing it would be the kids and classrooms that would benefit as district dollars went where they rightfully should.
Of Pancakes and Politics
Mr. Logan and I would often talk about race relations – a topic that proved interesting to a black man from the south who came to the Motor City as a teen decades earlier and white woman who was born and raised on the east side of Detroit.
While many described the Chronicle as the largest African American newspaper in the state, Mr. Logan would tell me the Chronicle was in the business of providing information to the community, "the entire community… black, white and anything in between."
Which brought us to a conversation six years ago when he and Hiram Jackson, of Real Times Media, parent company of The Chronicle, decided to start a community breakfast forum where leaders would gather and talk about vital issues.
To kick it off, they wanted to have then-Detroit Mayor Kwame Kilpatrick and Oakland County Executive L. Brooks Patterson, who had been bickering about Cobo Hall, discuss race relations and more.
Mr. Logan approached me about moderating "Pancakes and Politics" which was the name chosen for the event.
As senior producer and host of WWJ-TV CBS Detroit's "Michigan Matters" I regularly moderated conversations as well as community forums for Detroit Economic Club, Detroit Regional Chamber and others.
But as the nature of our relationship wen
t, I cut to the chase. I asked if he thought about the obvious. "I may be from Detroit and attended Detroit Public Schools, but, I am white."
"Ms. Cain: you are looking for problems when there aren't any. I see you as the perfect host for our event," Mr. Logan pronounced. "I have fought my entire life to not have people judged by the color of their skin but their abilities. End of story."
We agreed to do the first one. Six years later, with governors, mayors, CEOs, religious leaders and more taking to the stage, "Pancakes and Politics" has been a runaway success due to Mr. Logan and Mr. Jackson's efforts.
Mr. Logan and I talked last week about the upcoming "Pancakes" season.
He was enthused by the political prospects of 2012 – the presidential contest, Senate race and more. He also hoped to hear more about healthcare and auto companies.
He was excited about Detroit with the Ilitches, Gilberts, Karmanos and Detroit Pistons owner Tom Gores now in town.
The pieces were falling in place to take our region to the next level.
But the captain of the "Pancakes" team and Michigan Chronicle got the call. They needed him in heaven.
Despite the tears being shed over his passing, the Chronicle family will go on.
So too "Pancakes" and other community events and stories the paper will lead going forward.
See, Mr. Logan would be disappointed if this story ended any other way.
God Bless you and your family Sam Logan! You leave a wonderful legacy behind!
Carol Cain is the Emmy winning Senior Producer and host of WWJ-TV CBS Detroit's Michigan Matters. She has moderated the Michigan Chronicle's "Pancakes and Politics" since its debut six years ago.