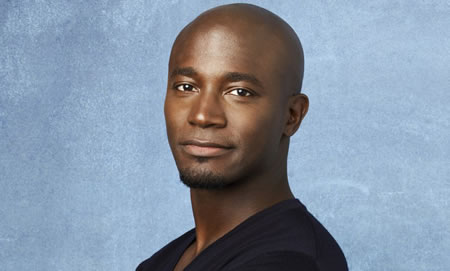 There are some actors and actresses that we see occasionally, others more often. And then there are those who have a constant presence, and in such a precarious profession, that is saying a lot.
All the more so when the performers are African-American or of some other minority group.
Taye Diggs always has something going on, either on television or in movies, sometimes both at the same time. And let's not forget his work in the theater. He is talented, fortunate and blessed that way.
Currently Diggs — whose real first name is Scott — is a regular cast member on "Private Practice" and has been since 2007. On the show, a medical drama that airs on ABC and is a spinoff from "Grey's Anatomy," Diggs portrays Dr. Sam Bennett. He had the same role on "Grey's Anatomy."
In case you were wondering how he came up with the nickname "Taye," it is based on a playful way of pronouncing Scotty — that is, "Scottay."
ACTING MAY have been in Diggs' blood because his mother, Marcia, is an actress and teacher. She and Jeffries Diggs were living in Newark, New Jersey, when they welcomed Scott Leo Diggs into the world on Jan. 2, 1971, the first of five children. However, he grew up in Rochester, New York.
In New York he enrolled at the School of the Arts. Later he entered Syracuse University. There he received a Bachelor of Fine Arts degree in Musical Theater.
Eager to get his career moving, Diggs made his Broadway debut as part of the ensemble cast in the revival of "Carousel," the musical that won a Tony Award in 1994.
That was nice, but bigger things were forthcoming.
Diggs originated the role of Benny, the unpleasant landlord in the long-running, Pulitzer and Tony award-winning musical with serious messages, "Rent."
He loves the stage and has said, "I'm always up for going back into theater. I jump at any chance."
Diggs says with certainty that nothing beats the stage for laying a foundation.
"Studying stage acting first makes iteasier to make the transition," he said. "It prepares you for any medium. You learn the basics."
It was in "Rent" that Diggs met actress Idina Menzel, who would later become his wife. They have a son, Walker.
DIGGS DID NOT appear on Broadway or in any road company of another famed musical, "Chicago," but he did, however, secure the role of the Bandleader in the movie version.
After making significant inroads on stage, Diggs began to focus on television and film. The daytime drama "Guiding Light" — many still call them "soap operas" or "the soaps" — was the first TV show he appeared on.
That was in 1997. From that point, things really started progressing for the ambitious actor. His list of credits includes "Ally McBeal" (he appeared in ten episodes), "The West Wing," "Kevin Hill," "Will & Grace" and on the reality TV side, "Punk'd."
Taye Diggs is a staunch believer in an actor being diverse, as comfortable in lighthearted roles as in serious drama. In fact, he has described himself as "an all-purpose entertainer."
Of his impressive array of films, including "The Best Man," "Drum," "Malibu's Most Wanted," "Brown Sugar," "The Wood," "House on Haunted Hill" and "New Best Friend," there is one that stands apart.
That movie is "How Stella Got Her Groove Back" from 1998, based on Terry McMillan's best-selling book. He portrayed Winston Shakespeare opposite Angela Bassett as Stella Payne. Their performances were outstanding and the chemistry could not have been better.
Whoopi Goldberg, as Delilah Abraham, was also great.
In addition to his many acting assignments, Diggs co-owns and co-directs a dance company in New York City, interestingly called dre.dance.
And lest we forget, he also wrote a children's book titled "Chocolate Me!"
Taye Diggs — actor, dancer, singer, author — could be accurately defined as a man for all entertainment seasons, thoroughly immersed in the arts.