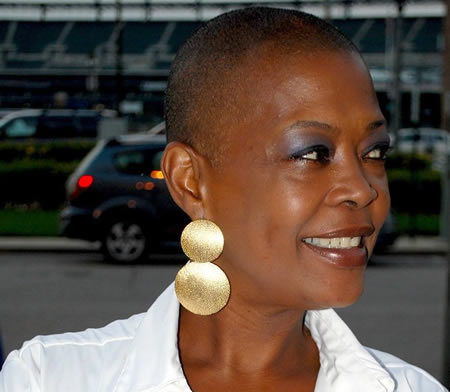 I had the pleasure of spending time with Virginia Douglas, CEO of the Renaissance Bowling Center, located at 16900 Woodward Ave. in Detroit. (313.368.5123) It is the only Black female owned bowling alley in Michigan. Virginia is the middle child of nine brothers and sisters. The center is operated by her son, Steve Douglas, president; her grandson, Brian Douglas, manager; and her brother Tyrone Douglas, operations manager.
For those of you who don't know, Virginia is a walking history book. She told me stories of all the businesses she has had since the early 1960s, some we won't mention to protect the guilty. She has owned several restaurants in Detroit, nightclubs and other venues. Renaissance Bowling Center is formerly State Fair Bowl.
I was amazed of her struggles to maintain her business as a Black female. "Obtaining funding was hard," she said, so she just kept saving every penny, nickel and dime to get what she wanted.
Her primary goal was ensure her family was taken care of and to give back to her community. Virginia, a single parent, never gave up hope and always maintained a positive attitude even when the tunnel seemed dark.
"I never walked alone, God had my back," she said. "I never thought I couldn't do something. My parents always gave me inspiration. I never depended on anyone to help me. You can only depend on yourself. 'I can't' or 'I couldn't' was never something I said or believed in. My mother wouldn't hear of it.
"After listening to all she had said and done, I had to ask myself, why isn't this house filled with bowling leagues?"
There are some great leagues there now, such as Monday Morning Trio, Detroit Retirees, 36 District, Second Baptist, Fellowship, World Travelers and Motor City Blind Bowlers, to name a few. But the question remains: where are the rest of the Detroit Black bowlers to fill the 40 lanes during the day?
This house should be full of leagues and fundraisers. I can't believe we still do not support our own people.
Yes, I'm saying it. Black folks still have issues supporting other Black folks. Are we looking for a better deal simply because we are Black and think we should get "the hook up"? People, it's time we wake up and understand that Black business owners work just as hard, if not harder, than others. They are in business to make money just like other business owners. They provide good service, the businesses are clean and family friendly, and they have competitive rates. You should be getting something for next to nothing.
There are several Black bowling clubs in Detroit, and there is one that fully supports this center. We have the best fraternities and sororities in Detroit. We have hundreds of churches, block clubs, school groups and corporate groups.
So, I'm calling you out! Come and support Renaissance Bowling Center. Host your next fundraiser, company outing or birthday party there.
Before your group signs another league contract, come out and speak to the staff at Renaissance Bowling. Before your group books another masters tournament, classic tournament, 9-pin no tap or doubles tournament, come out and meet with the Renaissance Bowling staff. You might be surprised at what you have been missing.
Virginia Douglas has been selected as the TNBA Detroit Senate Pioneer of the Year. She will be honored in November at the American Serbian Memorial Hall.
I'm just saying.
Congratulations to Stephen Teart on his 300 game Thursday night at Renaissance Bowling Center. Stephen's team, "Daddy Gone," is currently in first place with the World Travelers Mixed.
If you would like your high games published, please e-mail me the information at bellnjeri@gmail.com.
N'Jeri Nantambu-Bell is the president of NBS, Inc. Marketing and Public Relations. For more information please call (248) 214-7912.