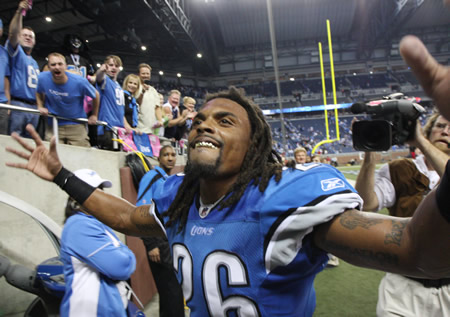 What can I say about the buildup to the Detroit Lions' first Monday Night Football game at Ford Field and its first appearance on MNF after a 10-year hiatus.
And why would the NFL hierarchy want the inept Lions of the past on their topmost weekly program? They would not, did not.
Times are changing, no matter that it has taken ten years. The Lions are roaring back to NFL respectability and football watchers around the country are again interested in our team.
So in comes a Black and Blue Division opponent (the Chicago Bears), and the Lions sent them back to the Windy City with a 24-13 loss – dropping the Bears' record to 2-3.
With a national audience and a chance to make a statement to the world that Detroit is indeed relevant again as an entertaining and competitive NFL franchise, the Lions long-suffering, but faithful fans took this opportunity to party.
The downtown area was abuzz, electric and festive.
"Detroit has been through tough times before," Lions coach Jim Schwartz said, "and tough times don't last, but tough people do. There are tough people in the city of Detroit. It's a blue-collar town and blue-collar towns are the best sports towns.
"When cities are going through tough economic times, and states are going through tough economic times, people look to sports as an escape. I think we have a responsibility to give people something to smile about, something to cheer about. We feel a very strong bond to this city. I think our work ethic reflects the city of Detroit's work ethic."
Linebacker DeAndre Levy was in agreement: "Monday Night Football was a big opportunity to show people and validate what kind of team we are." Said quarterback Matthew Stafford: "We have a great group of fans here, they showed up tonight and it was unbelievable. It's our job and our joy to go out there and give them something to cheer about and it's been a bunch of fun and hopefully we can keep it going."
With so much hype surrounding this game and a Lions record crowd of 67,861 packed into the cozy indoor stadium, the Motor City Cats came out in the first half and played like the bright lights had them over-anxious and on edge, as evidenced by the rash of penalties and over and under throws by Stafford.
The resourceful Bears took advantage and took a 10-7 lead into halftime. The Lions' only semblance of offense was a second quarter Stafford to Calvin Johnson's 73-yard catch and run making him the only player in NFL history to latch onto nine touchdown receptions through the first five games of the season.
The Lions earned their first 5-0 start since 1956 after yet another come-from-behind victory. Leading the way, of course, was Johnson, who caught five passes for 130 yards with one touchdown.
Next, it was back Jahvid Best's 88-yard touchdown run that gave the Lions a 21-10 lead in the third quarter. His touchdown was the second-longest run in team history, and he finished the game with a career high 163 yards on only 12 carries.
Finally, the Lions' defensive line and the deafening crowd put so much pressure on the Bears offensive line it false started nine times.
"Our hats are off to the city of Detroit," Schwartz said. "The fans did their part tonight and we took the cue from them. But nine false starts is an awful lot and all the credit goes to our crowd."
Added Best: "It was crazy out there. The fans, I think, caused them at least six or seven false starts. The place was rocking, there was a lot of electricity in the air. We were definitely feeling it."
Detroit has not always been an afterthought for Monday Night Football. In fact, the Lions have appeared in a total of 25 Monday Night games. If all this is real, I am pretty sure the Lions will be back in the MNF rotation.
Leland Stein can be reached at lelstein3@aol.com or at Twitter @lelandsteinIII.