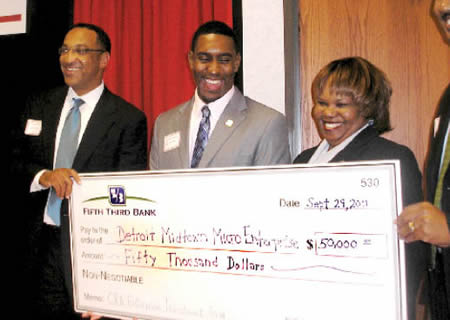 Fifth Third Bank awarded the Detroit Micro-enterprise Fund $50,000 to help strengthen and rebuild Detroit's commercial corridors. The Detroit Micro-enterprise Fund is a business task force that supports Midtown businesses and entrepreneurs to help bridge the gap in fundamental bank funding.
A 2002 Community Convention hosted by the Detroit Empowerment Zone Neighborhood and Family Initiative program, identified concerns of residents located in Detroit's central city. The need for more community-based small businesses to provide goods and services within Detroit's neighborhoods was identified as a major issue. To better examine the focus resources on the issue, a Business Task Force comprised of stakeholders in midtown Detroit was formed.
The Task Force surveyed the existing business community. A recurring issue was access to available credit for equity, to purchase inventory, business development and other marketing needs.
Several members of the Business Task Force attended a regional training meeting of the Association for Enterprise Opportunity (AEO), a national micro-enterprise trade association in 2003. From there, the idea to start a micro-enterprise loan fund in the city of Detroit was born. While many large American cities had as many as ten to twelve micro-enterprise funds at the time, there were none in Detroit.
Operating with a sense of urgency, the Business Task Force established a Michigan non-profit corporation – The Detroit Micro-enterprise Fund (DMF) in 2004. The Community Foundation for Southeastern Michigan awarded a DMF grant of $65,000 for start up operations in 2005. The Detroit Micro-enterprise Fund's 501c-3 federal tax status was established in 2006, and several of the Business Task Force members formed the corporation's board of directors.
The Detroit Micro-enterprise Fund officially opened its doors on April 1, 2007, with an office in Wayne State University's TechTown business incubator center. Remaining true to its intent to respond to the needs of the community, DMF partnered with community development corporations (CDC's), to ensure awareness and access to the fund was communicated to new, emerging and existing business owners in Detroit area neighborhoods.
"Since its official launch four years ago, the Detroit Micro-enterprise Fund has become a bridge to many barriers in the small business community. The Fund has become a bridge for capital investment, entrepreneurs seeking to bring innovation, talent and new products and services into their communities, and a bridge for sustainable community development," stated Lorenzo Thurman, executive director for Detroit Micro-enterprise Fund. "The DMF has financed or funded approximately 150 projects, created 150 jobs and created or retained one job for every $2,000 loan disbursement."
With a vision of continued growth through specialized loan funds, the DMF is poised to assist many new and emerging business owners by providing needed capital that will redefine Mainstreet. Their micro-enterprise ventures will offer goods and services most needed and desired by those within their immediate community.
MICRO-LOAN FACTS AND FIGURES
The Micro-loan concept started in the poorest Third World countries, principally Bangladesh, and spread quickly where it was most needed, in Eastern Europe, and Central and South Africa over 30 years ago.
• The recipients of micro-loans are generally individuals with little or no credit history, an unstable job history, and little or no assets to leverage as collateral.
• A micro-loan is $25,000 or less.
• The industry average micro-loan is $12,000.
• The popularity of a micro-loan in the U.S. began approximately 20 years ago.
• Within the state of Michigan, just over 19% of workers are employed by a micro-enterprise.
• There are 869,839 businesses in Michigan. Of that total, 87.46% are micro-enterprises.
• A micro-enterprise is defined as a company with five or fewer employees.
• There are 20 million micro-enterprises in the United States.
·• An estimated 10 million individuals fit the characteristics of the target groups the micro-enterprise industry seeks to serve: women, minorities, low income individuals, individuals with disabilities, and those with difficulty assessing commercial credit markets.
• A survey or micro-enterprise programs found:
■ 59% ( the majority) of micro-entrepreneurs are female
■ 60% are of a traditionally disadvantaged background
■ 68% had incomes at or below the area median income (HUD Guidelines)