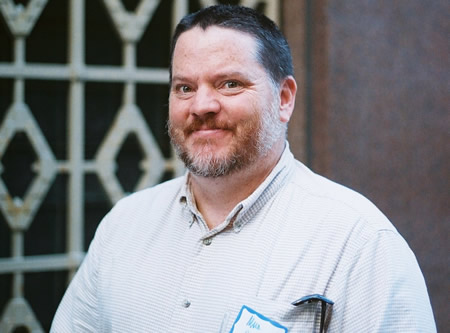 On Aug. 29, WXYZ's Detroit 2020 program coordinated a bus tour of the city with Inside Detroit. Approximately 15 people from the metro area participated, and many of them learned new things about Detroit.
As the tour bus pulled out of the WXYZ TV 7 parking lot, Marc Barringer of St. Clair Shores said he went on the tour because he was looking to find parts of Detroit he didn't know about. He said he knew a few things related to entertainment and things of that nature, but not much else.
He wanted to know what's going on in the neighborhoods, and that he was also interested in how urban gardens and urban farming are developing.
An urban farm was on the tour, the Earthworks Urban Farm, run by Capuchin Soup Kitchen. Tour guide Jenette Pierce said it was started in 1997 by a monk who wanted to be able to get fresh fruits and vegetables to people in the soup kitchen.
The farm backs up to the Gleaners Food Bank.
She noted that urban farming has engaged the neighborhood.
The tour also included Corktown, the oldest and one of the most active neighborhoods in the city.
The neighborhood also includes Hostel Detroit, a nonprofit founded last November, and coordinated by Emily Doerr. It opened this past spring.
Visitors who stay at Hostel Detroit not only have an affordable place to stay, but also get connected to what's going on in the community.
At one point during the tour, Pierce also pointed out a Honeybee Market, and said the city has 111 full-service grocery stores.
In Mexicantown, she cited "beautiful, amazing murals" and the Matrix Theatre, which offers classes for children of all ages
"It's really about community development through art and theatre," Pierce said.
Southwest Detroit is a neighborhood that's been growing continuously.
As the bus circled Campus Martius Park. Pierce said that despite naysaers, it's been hugely successful, and that last year it was voted number one transformative park in the United States.
Campus Martius was originally a military training ground. The Soldiers and Sailors Monument, erected in 1872, was one of the first Civil War monuments.
Campus Martius Park also marks the point of origin of Judge Augustus Woodward's original street plan for Detroit.
"Due north is Eight Mile and Dequindre, where all three counties come together," Pierce said.
As the tour group got out to visit the Guardian Building, Barringer said he didn't realize that Southwest Detroit is still growing.
Built in 1929 by architect Wirt Rowland as a bank's headquarters, a "cathedral to finance", the Guardian Building features a five story mural, a Tiffany clock, Rookwood tiles, and local Pewabic tiles.
Pierce said the majority of people in the metro Detroit region surprisingly have never even heard of the Guardian Building, while people will come from all over the world to see it.
The group got out again at Rivard Plaza, which Pierce described as "the home of the RiverWalk."
Susan Lough of Canton said she hadn't expected to see the nicer areas; or that there's a hostel, or that there is an interest in people who want to come down here.
Lough was pleasantly surprised, saying, "I'd always heard of the RiverWalk and didn't know that it was actually here," she said. "It's really beautiful."
Becky Lough, her daughter, generally has only come to Detroit for sporting events. She said some of what she's seen on the tour might prompt her to come down more often.
Jeffrey Lindahl of Redford said he probably went by the Guardian Building many times without noticing it.
Krista Mazzeo of Livonia said, "I'm getting a more positive vibe about the city that counteracts my previous negative feeling."
Other stops included Indian Village, where the average house is 6,000 square feet, and each is unique, and the Heidelberg Project on Heidelberg Street.
Pierce said people from more than 100 countries have visited the Heidelberg Project, and that it's the third most visited cultural attraction in the city.
Artist Tyree Guyton, who started the Heidelberg Project, grew up on Heidelberg. His mother still lives there.
The group also visited a 10th floor model loft in the Lofts of Merchants Row, which consists of multiple buildings over two different blocks.
Pierce, who lives a few blocks away, said she can walk to 137 bars and restaurants; to Lions, Tigers and Red Wings games; and the second largest theatre district in the country.
"You have that big city stuff, but it really is that small town community," she said.
Chris Meller said that even though he was born and raised in Detroit, he had no idea so much was worth going to in the city.
Jane Tate, who grew up in the Brightmoor neighborhood and currently lives in Royal Oak, said she really liked the Guardian Building.
"I knew there was some really cool stuff down there, but I'd never really been in any of those buildings," she said.
"I really liked the RiverWalk and the park that was down there."
Inside Detroit's website is www.insidedetroit.org.