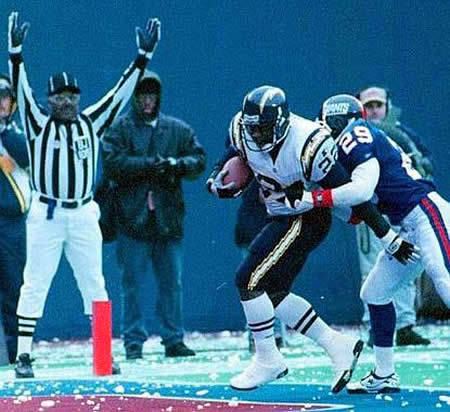 Michigan Sports Hall of Fame inducts two people who influenced Rodney Culver: Ron Thompson and Jerome Bettis
It has been 15 years since the tragic and heartbreaking ValuJet Flight 592 from Miami to Atlanta crashing into the Florida Everglades, killing all 119 people.
Onboard the flight were former Detroit St. Martin DePorres High football star Rodney Culver and his wife, Karen. The doomed May 11, 1996 air journey left at the time 2-year-old Briana and 1-year-old Jada Culver without their loving parents. Briana and Jada are now 17 and 16 and I'm sure they know that in Detroit their parents' lives remain etched in many people's minds and hearts.
The Culver mystic and memory was brought glowingly back to me when I interviewed many in the Detroit sporting community as I prepared to scribe two narratives for the Michigan Sports Hall of Fame's (MSHOF) commemorative induction magazine.
I was selected to write feature stories for two of Culver's favorite people, his high school coach at DePorres and mentor Ron Thompson, and, his very good friend, former Detroit Mackenzie High, Notre Dame, and NFL back, Jerome Bettis.
If Culver were alive today he would surely have made his way to the MSHOF's 55th induction event on Sept. 15 at the Suburban Collection Showplace in Novi to celebrate Thompson and Bettis' induction.
While interviewing Bettis for this story, he mentioned that he was very proud to be going into the Michigan Hall with Thompson. He said he knew Thompson had coached at his high school (Mackenzie) and at DePorres.
There was simply no way we could talk about Thompson and DePorres without Culver's name coming up. Culver and Bettis ended up at Notre Dame together and became best friends.
"Of course I knew about the DePorres legend while I was at Mackenzie," Bettis said. "Man, they were winning title after title. Every athlete in Detroit watched what was going on at DePorres.
"When I was trying to decide what college I was going to attend, when I went to Notre Dame and met coach (Lou) Holtz and then they made Rodney my host, that was it. We became very good friends. He was like my mentor; he took me under his wing. When we went home I rode with him. He was like a brother to me. I miss him."
Culver was 26 when he passed, having played in the NFL for four seasons. He lugged the pigskin for the Indianapolis Colts and San Diego Chargers. Over the course of his career, he played in 43 games, rushed for 689 yards on 241 carries, and ran for 12 touchdowns. The Colts drafted him in the fourth round of the 1992 NFL draft.
Before joining the NFL, he started at tailback in 1990 and 1991 for Notre Dame. He also played as a freshman on the Irish's 1988 national championship team.
I'm glad I got to know Rodney when he was with the Chargers. I was covering a San Diego game when I met him for the first time. The first thing I said to him was that Thompson was my coach in high school too. His face lit up like a firecracker. From there we talked about Detroit and many of the people both we knew. We met after games and went out together a few times.
But my most lasting memory of Rodney came in Miami at Super Bowl XXIX where the Chargers played the San Francisco 49ers. After practice one day, he and I sat by the pool at his hotel and shared the joy of the moment. He said, "Man, I can't believe I'm playing in the Super Bowl. This is every player's dream."
The next year I was in San Diego for the Chargers' playoff game against the Colts (which they lost). That was the last time I saw Rodney. His final words to me as we left Jack Murphy Stadium were, "I'll see you next year. I'll be ready to compete and do whatever coach (Bobby) Ross wants."
Ross said it best in his remembrance of Culver: "He was one of those guys whose life on the field and off were examples to all of us."
Said Holtz: "Rodney Culver never stood out, but he was always there. That is why I made him captain. He was a solid person and very popular with his teammates."
Rodney won't physically be there for two of his influences, Thompson and Bettis, but I'm sure he'll be there spiritually.