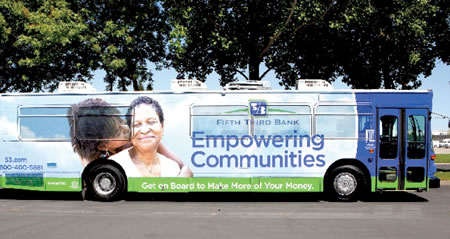 Fifth Third Bank just completed its 2011 eBus Tour that lasted from August 10th through Sept. 3. Having outreached to more than 3,000 area residents, the 2011 tour was an overwhelming success. The bus visited 17 area communities and provided information and resources that included free credit reports, credit counseling, information on how to sign up for a free energy audit and, access to free legal services. The tour also included free dental exams and preventative care for children under 18 years of age and free health screenings.
We thank everyone who visited the bus and took advantage of the resources provided local area profit and nonprofit organizations, credit counseling agencies and the following community partners who teamed up with Fifth Third Bank for the 2011 eBus Tour. The dedication, hard work and 'boots on the ground' attitude of the partner organizations and our Fifth Third Bank volunteers that provided their expertise made it possible to extend our outreach efforts to so many people.
The Bank would also like to express its gratitude and special thank you to City of Detroit Councilwoman Joann Watson and the Bank on Detroit staff for their energy and partnership for the unveiling of our new eBus at Hart Plaza.