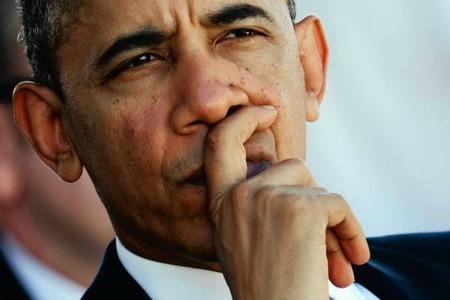 The Washington Post is reporting that President Obama is facing uncomfortable questions from the Black community and Black lawmakers like those in the Congressional Black Caucus.
Obama's initial strategy of distancing himself from the Black electorate when campaigning in order to appeal to a broader group of Americans is now backfiring amidst the downturn in the economy, including disproportionate levels of joblessness impacting Black communities.
The White House is now adjusting this strategy because it appears that President Obama may not be able to count on the Black vote without directly addressing the Black community. The White House dispatched top official Don Graves to participate in a Congressional Black Caucus jobs forum in Miami that had been scheduled in part to pressure the White House.
Graves, the executive director of the president's Council on Jobs and Competitiveness, told Black lawmakers that the president would consider taking executive action to enact at least parts of jobs-related measures they have introduced to no avail in the Republican-led House.
"You may not feel like the president is listening to you, but he hears you loud and clear," Graves told the lawmakers before an audience of hundreds crammed into the pews of the Mount Hermon African Methodist Episcopal Church.
According to the Pew Research Center 95 percent of Black voters, 67 percent of Latinos and 62 percent of Asian-Americans went for Obama over Sen. John McCain (R-Ariz.) in 2008. The outreach project is looking to retain those numbers with Project Vote.
A statement from Obama for America said the campaign will combine grassroots organizing with digital outreach and voter registration to "expand the electorate" and "maximize participation from crucial constituencies." 
According to The National Journal, the Obama campaign will have to contend with a new slate of voter ID laws and other restrictions at the state level that will affect the very demographic groups Project Vote aims to reach. As many as 12 percent of eligible voters nationwide do not have a government-issued photo ID, and seniors, minorities, low-income voters and students are particularly likely to lack the correct documentation, the Brennan Center for Justice has found.
Obama strategist David Axelrod called the wave of voter ID legislation and other restrictions "calculated strategy" by Republicans to "hold down voter turnout," USA Today reported in June.
"The reality is that Team Obama has lost significant ground with every constituency and they are scrambling to shore up those losses with Project Vote," Republican National Committee spokeswoman Kirsten Kukowski said in a statement.