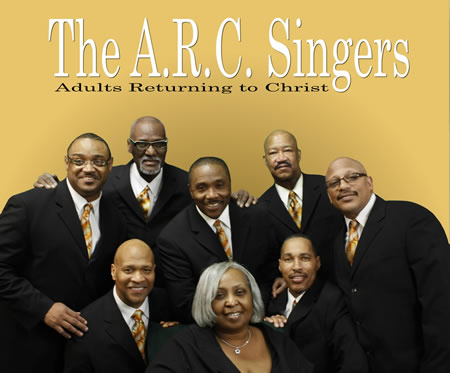 After 15 years of singing, The Salvation Army's A.R.C. Singers are finally poised to make a big splash on the Detroit music scene.
What started as a Sunday choir performing during church services at The Salvation Army Southeast Michigan Adult Rehabilitation Center (SEMI ARC) in 1996 has blossomed into a fully-realized recording group with nine full-time members and a seven-piece band.
Songs from their third CD released in late 2010, "Pure Joy," can be heard on local radio stations, including WEXL-FM, WMXD-FM and WMUZ-FM.
"With the CD we're reaching a much broader audience of people who have never heard us sing the message of the Lord before," said Loren Dean Harper, a group member and director of performing arts for The Salvation Army SEMI ARC.
Next up on the singers' calendar is "Restoration Thru Salvation: A Night with Shirley Caesar and Vickie Winans" at 7 p.m. on Friday, Sept. 2, at Second Ebenezer Church, 14601 Dequindre Road. The concert is presented by the ARC, and benefits The Salvation Army's new all-women rehabilitation facility in Romulus. It is sponsored by Blue Ray Mechanical Inc. of Hazel Park and others.
"I'm really excited about what's going on with the group and the new exposure that we're experiencing," Harper said.
The A.R.C. Singers have been a popular commodity within The Salvation Army organization for years, and are now becoming an attraction outside the nonprofit. Nationally, the group has performed in Florida, Las Vegas, New York and Oakland, Calif. Locally, they've sung "The Star Spangled Banner" at Comerica Park and performed at the Woodward Dream Cruise.
"I am proud that our A.R.C. Singers are getting the opportunity to share their music with another audience. They are a truly talented group of individuals, and we're certainly lucky to have them do what they do every Sunday," said Merle Miller, administrator for The Salvation Army SEMI ARC.
All but one of the group's nine singers and seven band members have completed the SEMI ARC's rehabilitation program. The A.R.C. acronym in their name stands for "Adults Returning to Christ."
Their CD is available on iTunes, and locally at God's World Entertainment at 13533 West SEven Mile Rd., Detroit, and Dickson's Bible & Bookstore at 13743 Woodward Ave., Highland Park.
The 10-track album of inspirational songs was recorded less than a year ago in The Salvation Army's state of the art recording studio inside its main building on Fort Street in Detroit. The Christian-minded studio has been used by members of the Detroit Symphony Orchestra and Detroit Public Schools, and is open to the public for recording. "Its affordable studio time, charged according to specific needs," Harper said. For information on renting, call Charles Champion or Harper at (313) 965-7760.
The Salvation Army is a faith-based, non-profit organization dedicated to serving people in need without discrimination, and was founded by William Booth in London, England, in 1865. It has been in Detroit for nearly 125 years. The ARC is an integral part of that mission, and offers substance-abusing adults the opportunity to rebuild their lives through a voluntary, short-term residential self-help program designed to establish a sense of dignity, self-esteem and personal strength that will allow them to resist the desire to abuse a substance and regain their rightful place as contributing members of society.
The ARC is self-funded and draws its entire operating budget from the revenue of its 32 Salvation Army Thrift Stores located in southeast Michigan, as well as special events like the upcoming "Restoration Thru Salvation" concert.
Caesar is a multiple Grammy Award nominee and 11-time winner who has performed for presidents and world leaders while also leading the ministry at a thriving church in North Carolina's Raleigh-Durham area. Caesar's career began in the early 1960s singing with the the Caravans. She became a solo artist in 1966 and has since released more than 30 albums.
Winans, a Detroit-born gospel singer, has recorded 17 albums in her 25-year career. The Grammy-nominated, Stellar Award and NAACP Award-winning performer is known for her powerful voice and moving performances.
Again, Tickets to "Restoration Thru Salvation: A Night with Shirley Caesar and Vickie Winans" are $15, and are available at Second Ebenezer Church, God's World Entertainment at 13533 West 7 Mile Rd., Detroit, Dickson's Bible & Bookstore at 13743 Woodward Ave., Highland Park or at the Southeast Michigan ARC located at 1627 West Fort Street, Detroit.
For more information on the concert, or to obtain tickets from the ARC, call Bill Koviak at (313) 965-7760, ext. 231, or visit www.salarmythrift.com.