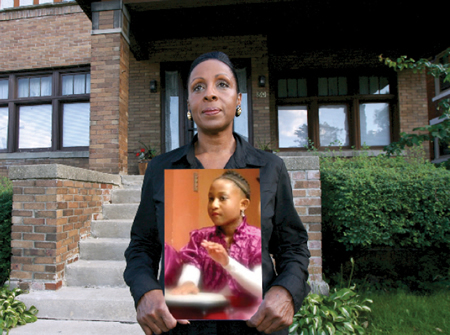 To understand Maryanne Godboldo and the protracted battle to have the final decision over her daughter's welfare is to understand her world view and what motivates this working class African American woman.
It is to understand the cultural framework that informed her upbringing and identity as a person who studied under Alvin Ailey and Katherine Dunham in New York, two of the greatest African American dancers in history. She returned to Detroit to be a dance instructor with her sister, Penny, who is a dance professor at Marygrove College.
To decipher her is to know that beneath the public image that's been created about her since her legal troubles began, lies a woman who cares deeply for her 13-year-old daughter, Ariana Godboldo, and who is at the same time taking care of her 98-year-old mother.
Godboldbo opened up to me Monday afternoon at Hartford Memorial Baptist Church where she attends church after 36th District Court Judge Ronald Giles, in an unprecedented move, collapsed the prosecution's criminal case against Godboldo that morning by dismissing all the charges against her for what he said was a lack of evidence.
Judge Giles said there was no evidence she fired at police in a ten-hour barricaded standoff last year when Child Protected Services (CPS) went to her house to collect her daughter, and that the court order that was used by police to enter her house was not valid because it was not signed by a judge, as the law requires.
Godboldo came to the attention of CPS when she stopped giving Ariana anti-psychotic medication that she believed was harming her daughter.
One of her attorneys, Allison Folmar, said CPS never presented a judge with evidence that the girl needed to be on drugs. Godboldo had already signed a waiver with the state that she could stop the medication anytime. The young girl is disabled and has a reduced mental capacity.
In the criminal trial, all of her attorneys, including Byron Pitts, son of prominent criminal defense lawyer Cornelius Pitts, deferred their payment to provide pro bono legal services because of what they termed as the "unconscionable" acts by CPS and the police, said that even the prosecution witness, a police officer, admitted that he should not have entered Godboldo's house in the first place because the order was not valid.
The Wayne County Prosecutor's Office has signaled it would appeal Giles' ruling.
I sat down with Godboldo in the basement of Hartford to find out what this all means to her, the impact the legal battle has had on her as a mother in a bitter fight to have control over the child she bore and loves.
"I was devastated to find out that this is what could happen. My perspective of what could go on in America has changed. Sometimes you become very angry and at one point I felt very much alone," Godboldo said. "Because I care so much about others, I imagined how this happens to other parents to have someone take your child away."
She said as a mother going through the ordeal, "I feel so many emotions. I feel proud that I was able to protect my daughter for as long as I could."
That natural instinct to protect her child, according to Godboldo, "strengthened me and I feel like I did right."
Judge Giles' ruling was a vindication from the image that was created about her as a troubled woman in a standoff with police.
Godboldo said "as a woman I feel compelled to help other mothers" from the wrath of CPS and the Department of Human Services.
"Once you get on the hit list of CPS and DHS, you are on it for generations. They ruined my daughter's life," Godboldo said. "I'm going to now move my daughter out of this space."
Moving her daughter away will mean overcoming another legal tussle because that case is before a jury in Wayne County Juvenile Court where attorney Wanda Evans is representing her. Meanwhile, Ariana is presently under the care of her uncle and aunt.
Godboldo believes her case underscores what is often under-reported — how a number of African American mothers who take care of their children in Detroit are left to weep and stand helpless when CPS is involved in their child's welfare without following the proper regulations and the dictates of the law.
She admits she is very fortunate to have the kind of lawyers who came to her defense after Detroit Coalition Against Police Brutality spokesman Ron Scott sounded the alarm, galvanized public support and they subsequently formed Justice4Maryanne.Com.
"This case is all about our rights and our quality of life," Godboldo said. "If we refuse to stand up for it, everybody loses."
Attorney Pitts said he got involved in the case and offered his services because what was at stake was violating the Constitution and that it was important to ensure that those who enforce the law abide by the Constitution.
Attorney Folmar said it is important to send the message that when orders are brought into people's homes, that they are authorized by a judge, not a junior court officer.
If the order to remove the child from the house was invalid, as Judge Giles ruled, the police should not have entered the house.
Ariana's father, Muba­rak Hakim, who owns a jazz company in Detroit and is a master drum instructor, called the ruling "a happy day but also a sad chapter in our daughter's life because of what she has to go through and that she had to pay such a price."
Justice4Maryanne.Com is seeking donation to compensate the legal team.
Bankole Thompson is the author of the new book, "Obama and Black Loyalty, Vol. 1," a trilogy on President Obama. His new book, "Obama and Christian Loyalty," will be released soon. Listen to his weekly analyses Thursdays at 11:15 a.m. on "The Craig Fahle Show," WDET-101.9FM-NPR affiliate. He is a member of the "Obama Watch" roundtable program, Sunday evenings on WLIB-1190AM-New York which is simulcast in New Jersey and Connecticut. E-mail him at bthompson@michronicle.com.