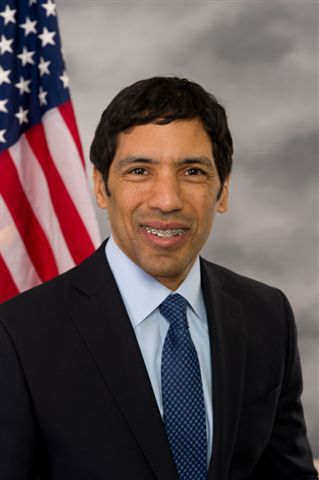 Rep. Hansen Clarke (D- Mich.) refuses to work "the Washington way."
Clarke, a freshman representative, said freshmen are told not to offer amendments to legislation, but he doesn't accept that tradition.
He said the recent earthquake in Virginia underscores that he did the right thing in offering an amendment to restore the funds after the House Appropriations Committee voted to remove funding metro Detroit's funding eligibility for Homeland Security dollars.
"We're not just any other city," Clarke said. "An earthquake here could have been disastrous. It could have disabled the busiest international border crossing in North America. It could have disabled our huge wastewater and drinking water system. That just helps underscore the fact that what I did was the right thing."
Clarke also said he will be introducing legislation to better secure drinking water and waste water facilities, saying they are at risk of contamination by terrorists because there is no federal agency in charge of the security of drinking water or waste water.
Clarke also worked to restore food stamps for low income mothers buying food at farmers markets to the agriculture budget.
"We've got a major farmer's market here with Eastern Market," he said. "I'm trying to grow that market. I'm trying to help make our people in this region healthier by eating fresh fruit and vegetables, not fast foods."
He said that is how you help stabilize the debt and overspending in this country. Health care costs contribute to that overspending.
"We have a disease management system that doesn't address the issue of keeping people well before they get sick," Clarke said.
He promotes metro Detroit as the possible future of the U.S. economy, one involving new manufacturing.
"We've got the talent, we've got the engineers, we've got the research institutions," he said, adding that all this gives him the chance to highlight the value of Wayne State University.
"All the vacant land and abandoned plants that we have, we have the capacity to grow and build," he said. "All I need is to provide the right incentives to attract and keep investment here."
Clarke also said the debt ceiling issue was a politically-created crisis, that has nothing to do with any fiscal crisis. He maintains that the real debt crises are mortgage debt, student loan debt and credit card debt.
"People in this area and around the county who are working don't have money because they're paying their income to creditors."
He said waging war against consumer debt is our mutual responsibility. He pointed out that it took a considerable amount of effort to get other members of Congress to sign on to a resolution that says we've got to address consumer debt.
"I had to repeat it over and over again, and here's why: Essentially, what I'm doing is taking two divergent thoughts of economic policy by stating that if you want to free up Americans' purchasing power, cut the debt that they have to pay directly," he said. "That's the crisis."
Clarke said his underlying thesis is that for the American economy to be strong in a sustainable way, individuals and families have to be financially secure.
He also outlined a jobs plan to help restore jobs in Detroit and around the county. First, it requires a major reform in tax policy.
"For a five-year period, establish a pilot initiative in Detroit to allow Detroit to keep the federal tax revenue that it generates," he said. "That's between $2 billion and $2.5 billion a year."
He added that "big strings" would be attached. If the city accepts this money, it would have to eliminate city income taxes during that same period.
The city and the Detroit Public schools must also pay off their respective debts, and the city must eliminate the property taxes that were levied to actually pay on those debts.
He said the end result would be a lower taxed region.
"The city of Detroit, I'm going to (look out for)," he said. "They're still going to get the same money that they raised from their city income tax back in 2000, which is $378 million. They'll be able to use that for any purpose."
On the other hand, Clarke said, the remainder of federal money Detroit would be getting for that five-year period can only be spent in public safety and public education.
"The best economic development incentive is to have good schools and safe streets," he said. "Job training, business infrastructure, public infrastructure, and all that, that plan, and how that money is spent must be approved by a majority vote of City Council and by the Secretary of HUD, money to be administered by the Secretary of the Treasury, so we're going to have checks and balances."
Clarke's second bullet point is zeroing out the capital gains tax for any investment made in the city in a 12 month period.
Point three is to encourage foreign investors to invest in distressed areas like Detroit, Flint and Pontiac. This would involve modifying the EB5 Visa ("green card") requirements.
"I'll make it easier for foreign investors to invest a half million dollars to create those jobs by allowing their family members in the U.S. to contribute, and allow venture capitalists to contribute that money, and also expedite the Visa application process, and also provide that immigrant with an expedited road to citizenship."
"The fourth point," he continued, "is a bill I introduced with Jim Renacci, Republican from Ohio, which would be to remove the regulations to allow employers to hire someone who's unemployed, provide them with on-the-job training, and still pay the person more money than they would receive on unemployment. And it would cost less money for the employer."
Clarke is also looking at a dramatic plan to forgive a large number of student loans. He said student loan indebtedness now exceeds $1 trillion.