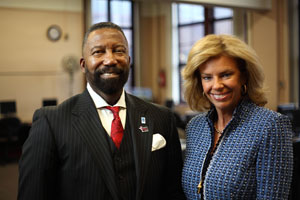 With massive change sweeping across Detroit and Michigan and everyone looking to regain footing, what's will it take to reinvent the state that put the world on wheels?
Education will be a key part of the solution,  DPS Emergency Financial Manager Robert Bobb says during an eye-opening TV special called "Reinventing Michigan" that airs Monday, Dec. 13,  6 p.m. on WWJ-TV 62 CBS Detroit.
It's the latest in WWJ-TV's  "Eye on the Future" community initiative to show viewers what is ahead. The Emmy-Award winning "Eye" team of Carol Cain, executive producer and host, and Paul Pytlowany, chief videographer and editor, travel the state to show what is taking place.
Among those appearing in "Reinventing Michigan" are  Governor-elect Rick Snyder, Detroit Mayor Dave Bing, Teamsters President James P. Hoffa,  actor Jeff Daniels, businessmen Dick DeVos and A. Alfred Taubman, Sen. Debbie Stabenow, Wayne County Executive Robert Ficano, EMU President Sue Martin, Oakland County Executive L. Brooks Patterson and Macomb County Executive-Elect Mark Hackel.
"Reinventing is a mantra for everyone in the state," said Trey Fabacher, vice president and general manager of WWJ-TV CBS Detroit and CW50 WKBD. "With a new governor and other key leaders taking over, the timing is perfect for our 'Eye' team of Carol and Paul — along with the rest of the WWJ-TV crew — to give viewers an exclusive front row seat to hear about the changes and what they mean to you."
"Reinventing Michigan " is the fourth in the  "Eye on the Future" specials. Others include "Building Bridges From the Great Lakes to the Great Wall,"  "Powering Michigan's Future" and "Rx For Michigan."
"Reinventing Michigan" will be rebroadcast Saturday, Dec. 18, at 11 a.m., and Sunday, Dec. 19, at 8:30 a.m. on WWJ-TV CBS Detroit.