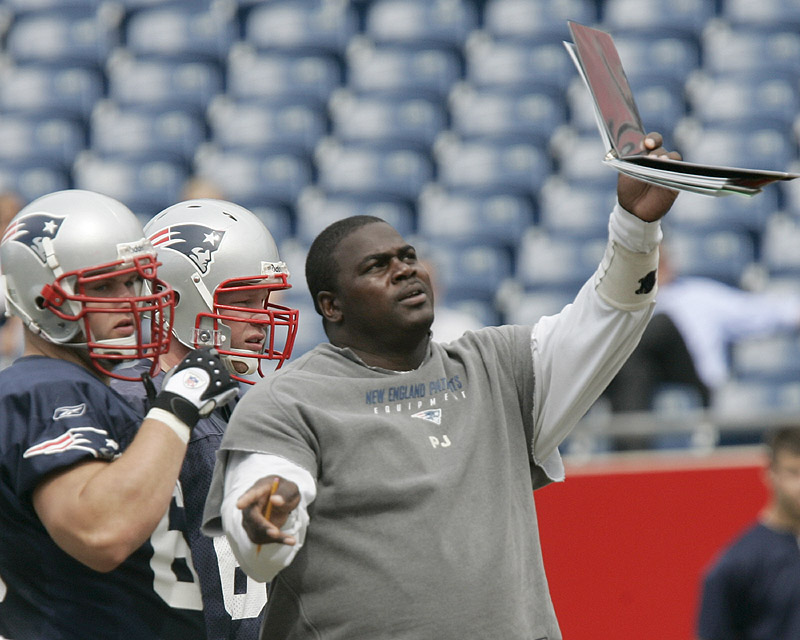 On Thanksgiving the New England Patriot visited Ford Field and on their sideline was Thomas "Pepper" Johnson, 45, who's earned enough Super Bowl rings to fill up one hand. There is no other athlete who has ever come out of the Detroit Public Schools that can even come close to what Johnson has accomplished. He has two Super Bowl rings as a player with the New York Giants and three as a coach with the Patriots.
After graduating from Mackenzie High School, Johnson took his enormous football talents and headed south of the border to Ohio State University, where the 6-foot-3, 245-pound linebacker led the team in tackles in 1984 and 1985. He also displayed the leadership skills as the Buckeyes' team co-captain in 1984 and 1985 that would eventually lead to his present career as an NFL assistant coach.
"Many people wanted me to go to Michigan," Johnson recalled, "but I liked Ohio State's coaching staff and the school, and I just felt it was the best place for me."
Following his All-American senior year in 1985, he was drafted on the second round of the 1986 NFL Draft by the New York Giants. He played for four different teams during his 13-year NFL career from 1986-98, but the two-time Pro Bowl performer will always be remember as a big part of the Giants "Big Blue Wrecking Crew" that led the Giants to Super Bowl titles in 1986 and 1990.
Most Football watchers acknowledge the Giants defense was among the greatest of all-time and the linebacker core formed one of the most dominant defensive units in the history of the game. It was anchored by Hall of Famers Lawrence Taylor and Harry Carson. Carl Banks, Gary Reasons and Johnson rounded out the best collective group of linebackers in NFL history.
"Man, that was a crazy, tough group of guys," Johnson said. "We could play all over the field; defend the run, rush the quarterback and cover out in space. They were versatile and mean on the football field."
Having mentored under two great Super Bowl winning coaches, Bill Parcells in New York, while Bill Belichick was the defensive coordinator, Johnson rejoined Belichick when he took over New England and the rest is history.
The fact of the matter is Johnson took fate into his own hands. He found out about a program the NFL was implementing to try to enhance coaching opportunities for former players. He completed the NFL's coaching fellowship in the summer of 2000 and promptly rejoined Belichick in New England as a defensive assistant, working primarily with the linebackers.
The next season (2001) he joined the staff as the inside linebackers coach, the same position at which he excelled for 13 NFL seasons and coached that position through 2003, before moving to defensive line coach in 2004.He quickly gained the respect and confidence of his players and has been a key figure in the Patriots' three Super Bowl victories and the resurgence of the defense. His fervent, energetic approach makes him a favorite of the players.
"Pep gives it to you raw and uncut," Pats defensive lineman Vince Wilfork told ESPN.com, "and whatever comes out of his mouth, you have to respect that because you know he's been a player at this level, on championship defenses. I like a coach who looks you in the face and lets you know how he feels about you. There is no beating around the bush. He has a lot of respect from me as a coach and as a person."
The Patriots are playing without a defensive coordinator and many around the league and even some of his players think that Johnson would be the right man for the job.
"Playing under him," Wilfork said, "I want to see him as coordinator, I think he deserves it. He has all the tools to be one."
His former Giants' teammate, Banks, concurred: "He has great knowledge and great instincts. I think the key right now as a coordinator in this league is not necessarily X's and O's, but the instincts of when to call those X's and O's. It's having the finger on the pulse of what your team may need and then knowing when to call that in the game. I think that is where Pepper is head and shoulders above a lot of people."
Johnson acknowledged that he is ready to step up the NFL coaching ladder and that over the last couple years he's been getting an increasing number of calls and text messages.
Johnson was a scholar athlete at Ohio State and recently was inducted into the Ohio State Hall of Fame (2001). It is just a matter of time before he becomes the first PSL athlete to become a coordinator in the NFL.
Leland Stein can be reached at lelstein3@aol.com.