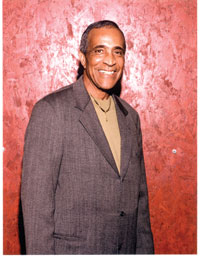 From the turbulent struggle by the United Auto Workers (UAW) to unionize workers at the giant Ford Motor Co., to the rise of a DRUM-led (Dodge Revoluntionary Union Movement) revolt pitting Black auto workers against both the UAW and plant management.
From the early stalwarts in the struggle against institutionalized discrimination and raw racism to those still waging the fight against its more sophisticated, covert forms.
From our celebrated icons, heroes and role models to the fallen pretenders, connivers and outright rogues.
The agony and the ecstasy, the dreams that blossomed into reality and those deferred or left to dry up like a "raisin in the sun," the Michigan Chronicle, since its beginning in 1936, has covered it all, always mindful of our mission to inform, enlighten, educate, entertain.
Begun as an alternative to the Republican Black-owned weekly, the Detroit Tribune, the Chronicle – as did all other Black publications at that time – had the luxury of staffing its newsroom and administrative positions with a wealth of talent that was denied access to employment with the White media prior to the civil rights and equal opportunity push.
Among those honing their journalistic talents at the Chronicle during the early years of their careers were:
Bill Matney, who went on to become the first African American NBC-TV news correspondent (he was preceded by one year by Mal Goode, who broke the color barrier as an newsman at ABC-TV in 1962). Matney, a University of Michigan graduate, started at the Chronicle in 1946 and eventually became managing editor, a post he held for ten years.. He also served as secretary of the Michigan Athletic Board of Control before becoming the first Black reporter and subsequently assistant city editor at the Detroit News in 1962. He worked for NBC for nine years, during which he produced programs for NBC Radio, made appearances on its Today show and won an Emmy for his coverage of the Civil Rights Movement, before moving to ABC to cover the White House and Capitol Hill. Born Sept. 2, 1924, in West Virginia, William C. Matney Jr. died of respiratory failure June l3, 2001, in Bethesda, MD, at the age of 76.
Mike Wahls, journalist, attorney, jazz musician, jurist, who rose to become the first African American appointed to the Michigan Court of Appeals. Wahls worked at the Chronicle from January 1962 to February 1963 as an assistant to the publisher, Longworth Quinn. After earning his law credentials, he and four other Black attorneys formed the law firm of Keith, Conyers, Anderson, Brown & Wahls and opened their offices in what was then the all-White legal district in downtown Detroit. In 1974. Wahls, a Republican, waged an unsuccessful campaign to become Michigan's first Black attorney general, losing to the man who would come to be known as Michigan's "Eternal General," Democrat Frank Kelly, who served an unprecedented 37 years in office. Wahls served as a Circuit Court judge from 1975 to 1982, when he was appointed to the Appeals Court by then Gov. William J. Milliken. Also an outstanding jazz pianist, Mike and his Mike Wahls Trio won international acclaim as recording artists and performers in nightclubs and jazz festivals. Born Myron H. Wahls, Dec. 11, 1921, in Chicago, he lost an extended battle with cancer on Nov. 24, 1998.
Betty DeRamus. award-winning journalist, author, Pulitzer Prize finalist,who has won international recognition for her mastery of the written word.
When I was hired by the Chronicle in 1966, Al Dunmore was managing editor and DeRamus was the news staff leading writer. The quality of her work was such it came as no surprise that other job offers came her way and she left to further what was to become a brilliant career in journalism. DeRamus has been a columnist for the Detroit Free Press and Detroit News, where she became a member of its editorial board. She has also written for diverse such publications as Essence, Time-Life, North Star Journal and Black World, and the British Broadcasting Co. She was among a select group of journalists to be allowed outside the South African prison from which Nelson Mandela strode to freedom in 1990 after decades of confinement and was one of a select international group of journalists who toured Central African refugee camps under the auspices of the United Nations High Commissioner for Refugees. She was a Pulitizer finalist in 1993 for articles on the 1992 riots in Los Angeles. Among her honors are a Deems Taylor Award and Michigan Press Association Award. To date, she has written two historical books, "Forbidden Fruit: Love Stories from the Underground Railroad" and "Freedom by Any Means: Con Games, Voodoo Schemes, True Love and Lawsuits on the Underground Railroad."

Contact Aretha Watkins at awatkins@michronicle.com or call 313-963-5522, ext.253.