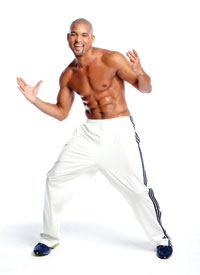 Seems only yesterday that you couldn't turn on the television without seeing Billy Blanks demonstrating his popular exercise creation, Tae Bo.
Today the exercise infomercials of choice are those of Shaun T, exuberantly showing viewers his 2007 invention, "Hip Hop Abs." It became the No. 1 fitness program on TV and since then there have been successful follow-ups.
New Jersey-born Shaun Thompson had danced in numerous stage musicals, television programs and movies. That's in addition to being hired by Nike, Radio Shack and other companies.
Good for Shaun! In addition to helping a lot of people improve themselves physically, by now he is probably a millionaire (at least).
But hey, I could have Hip Hop Abs if I wanted to! (Yeah, like that's going to happen!)
M.C. HAMMER is apparently as sensitive and overreactive as he is talented. In the past he has been publicly angry with Eminem and "In Living Color's" Tommy Davidson, for a remark and a spoof, respectively. Now he's mad at Jay-Z and has taken retaliation too far.
Calling himself "King Hammer," he has a video you may have seen titled "Better Run Run," in response to Jay-Z, on a Kanye West song, making disparaging reference to Hammer's financial troubles of the past. He even goes so far as to strongly suggest that Jay-Z "made a deal with the devil" in order to have the remarkable success he now enjoys.
One would think that a 48-year-old man would be mature enough to take the high road in such matters.
YOU HAVE TO give it to the Pointer Sisters. They had the first of many hits in 1973 and today they are still going strong. The ladies — Anita, Ruth and Issa — performed recently at the Motor City Casino Sound Board.
When June Pointer passed in 2006, many assumed that Bonnie would rejoin the group. What blocked that from happening was the big falling out Ruth and Anita had with her. June, a wonderful, energetic person, had developed a serious drug problem and, surprisingly, Bonnie sold her story to one of the tabloids. Anita and June were beyond furious.
Issa is the daughter of Ruth. Her father is Dennis Edwards from the Temptations who was married briefly to Ruth.
SPEAKING OF relationships, the public is not generally aware of the fact that Darryl M. Bell, who played Ron Johnson on "A Different World," and Tempestt Bledsoe, who was Vanessa Huxtable on "The Cosby Show," have been a couple for 16 years. They live together too.
Like the song says, "everything must change," but even so, it is hard to accept the fact that the legendary Smokey Robinson's new album, "Now and Then," is only being sold at Cracker Barrell Old Country Store/Restaurants.
Dionne Warwick, another music legend, has written her autobiography, titled "My Life, As I See It: An Autobiography." Should be interesting.
Janet Jackson has developed into an exceptionally fine actress, as proven by her performances in such films as "For Colored Girls," "Why Did I Get Married Too?" and "Poetic Justice."
One writer referred to Barry White as "the king of symphonic soul." That is a perfect description of the late superstar.
Rod Stewart is to be commended for his series of standards albums, the latest of which is the very pleasant "Fly Me to the Moon…The Great American Songbook, Vol. V." It is important to have people keeping those great songs alive.
Correction: In last week's column I said "The Dramatics Tribute to Ron Banks and Other Fallen Dramatics" would take place on Nov. 13 at Music Hall. It will, but that is a Saturday, not a Sunday.
BETCHA DIDN'T KNOW…that Academy Award-winning actor Robert De Niro has been married to an African-American woman, Grace Hightower, since 1997.
MEMORIES of the Temptations (the early years): "Dream Come True," "I Want a Love I Can See," (Girl) (Why You Wanna Make Me Blue?)," "Farewell My Love," "The Girl's Alright With Me," "Paradise," "The Way You Do the Things You Do," "I'll Be in Trouble," "Check Yourself."
BLESSINGS to Hansen Clarke, Lydia Nance-Adams, Leonia Lloyd, Yvonne Gullick, Mike Brown, Diane Perkins, Leland Stein III, Rogers Foster, Joe Harris, Marvin Taylor, Fred Goree and Cliff Russell.
WORDS OF THE WEEK, from Cicely Tyson: "Challenges make you discover things about yourself that you never knew."
Let the music play!
(Steve Holsey can be reached at Svh517@aol.com and PO Box 02843, Detroit, MI 48202.)