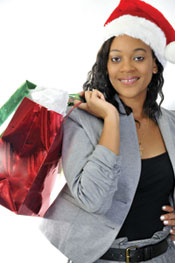 The upcoming holiday season should be a time of joy for you and your loved ones. It is the time for the good cheer and high hopes for the new year and a time for reflection. However, for many families these times may not be so pleasant as they struggle to find holiday cash. Of course, credit cards can solve the immediate problem, but they can also come with a myriad of other problems down the line.
Most families do not plan to increase the balances on their credit cards during the holidays; unfortunately for some, it just happens. It is deceptively easy to "buy now and pay later." Some credit card companies may encourage customers to pay the minimum balance or offer "rewards" to get them to swipe their plastic so fast, it starts to melt. There are two simple words of advice — "caveat emptor," or "buyer beware" — if it sounds too good to be true, it is.
This scenario is a common practice: Mary Lackincash used her credit cards for her holiday shopping throughout the month of December.  Each time she conveniently swiped her card and signed her name, she promises herself to pay the debts off by the end of February.  Come July, she is still paying on the holiday gifts that seemed like such great ideas at the time.  By the time December rolls around again, Mary will still be paying off those purchases, interest and fees, along with other obligations incurred throughout the year.  The vicious, self-perpetuating cycle repeats into the next year.
With so much power shopping done at one time during the holidays, it can be very easy to forget about the debt that is adding up.  There are times when the convenience of credit is necessary, but holiday gift buying is not one of those times.  To avoid that post-holiday financial hangover from credit card debt and to enjoy a little more peace of mind for the new year, here are a few tips:
Plan Ahead
Plan ahead by making a list of all the people to whom you want to give gifts and how much you can realistically afford to spend on each one.  Don't forget those little things that also add up such as cards, stamps, wrapping paper, gift bags, stocking stuffers, decorations, etc. And don't forget non-family members and close friends that you need or want to buy gifts for such as co-workers, volunteers, childcare providers, teachers, etc.  Total all gifts and incidentals to make sure they do not exceed your financial abilities.
Look for bargains early. It has been a tough year for most of us.  Think about cutting back on your usual holiday expenses.
Ways to Reduce Your Gift Expenses:
1.    Draw names
2.    Make and give gifts from the heart
3.    Set specific non-negotiable spending limits before you start shopping
4.    Organize an ornament or snack exchange in lieu of traditional gift giving
5.    Arrange to provide a personal service such as Friday night baby-sitting, or spring cleaning for a friend
Shop Wisely – Ninja Shopping
Practice ninja shopping. Before you start spending, window shop. Leave the cash and plastic at home, and hit the shopping center to compare prices, spot values and,make purchasing decisions.  Prices may vary from store to store but all of the retailers need to move merchandise, so there will be sales, discounts and other promotions.  Keep in mind that as the holidays come closer, prices fall but the selection may not be so great. Once you have put all of your ninja shopping skills into action, you're ready to make some smart purchases.
Decide How You are Going to Pay
Cash is king. Leave the credit cards at home.  Fifth Third Bank makes this even more convenient with a Goal Setter Savings Account.  It was created to help put this advice into practice, keeping your savings separate from your day-to-day cash. By the time the holidays roll around again, you will have prepared by saving small amounts at a time, painlessly.
If you have to use credit, do it wisely.  Use only one card for your holiday purchases.  The spending on one card is easier to keep track of.   Keep a log of your credit card spending, similar to a check register.  Every time you make a purchase, record it in your log.
If it has been a financially burdensome year, consider talking with family and friends about gift alternatives. As you plan your holiday spending, keep in perspective the true meaning of the holidays.  The most meaningful gift you can give to someone is the gift of self.   The best gift you can give yourself is a debt-free holiday season.