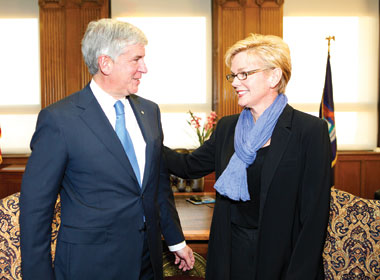 The most important assignment in state government given the current state of Michigan's economy is the job of the state treasurer. Because the treasurer helps set the tax policy of the state and has tremendous influence on how the business climate in Michigan operates. And that leadership role this week was given to Democratic House Speaker Andy Dillon, a former gubernatorial candidate for the Democratic Party who was once viewed by some as the successor to outgoing governor Jennifer Granholm.
Such an appointment, unheard of in Michigan politics, coming from Governor-elect Rick Snyder who ran under the GOP banner speaks volumes regarding what may be yet to come. Clearly Snyder is living up to his campaign promise to do away with political labels and partisanship that has paralyzed Lansing by reaching out to the other party.
In doing so, Snyder is not only demonstrating political maturity but also showing us that he is not tied to the same old ideology that thrives in fanning the embers of culture wars by exploiting wedge issues to further divide our community.
Certainly Dillon's appointment is a major setback for those who were hoping to make Snyder the prince of right wing extremism in Michigan. But the governor-elect, whose selection of Dillon tells us he's leaning toward independent-mindedness rather than partisan ideological divide, knows there is more that unites Michiganders than divides us. He assured me in an editorial meeting a week before the election that he is not hindered by labels. He wants Michigan to thrive and for graduates to have a reason to stay here in the Wolverine state instead of making the exodus to New York, Washington D.C. and other cities with seemingly more to offer.
Snyder announced his transition team, naming three former Gov. John Engler appointees Doug Rothwell and his wife, Sharon, and Meijer Inc. president Mark Murray. Snyder also added George Jackson, head of the Detroit Economic Growth Corporation to the team which underscores the role that Detroit will play in a Snyder administration. He talked in detail about his central cities program to revive the state's municipalities and how Detroit is crucial to that plan. Snyder selected Dick Pos­thumous, lieutenant governor under Engler, as a senior advisor.
I have never met Sharon Rothwell or Mark Murray. But I have met and interfaced with Doug Rothwell, who heads Business Leaders for Michigan, a number of times.
It did not come as a surprise that Snyder reached out to him to lead the transition team because Rothwell understands political economy and its relationship to the means of production.
Truth be told, eyebrows were raised when Snyder reached out to some veterans of the John Engler administration — whose legacy is divided among voters in the state — but then there was some comfort once Dillon was the made the biggest news so far of the Snyder regime.
Voters gave Snyder the mandate to pick the most competent people to help him run the drowning ship of state. If they can help get Michigan back on track and give Detroit more support, it should not matter what party those individuals belong to now or belonged to in the past. After all, politics has shown us that often partisan labels can be a mere facade that does not reveal the capabilities and passions of the people behind the labels.
Democrats created their own waterloo. They are crying now but hopefully they will spend more time trying to figure out how they got dealt this damaging blow.
Perhaps the Michigan Democratic Party should have fully funded their candidates for secretary of state and Supreme Court, Jocelyn Benson and Denise Langford Morris, before pouring all of their resources into the dominant gubernatorial ticket that wasn't getting any traction. It was like pouring water into a leaky bucket.
In my view these were the two most important spots on the Democratic ticket because of their tremendous potential to impact political representation — congressional redistricting that will very likely end up at the Michigan Supreme Court as the final arbiter — and administering the crucial 2012 presidential election and safeguarding voting rights which will be the duty of the next Michigan secretary of state.
Snyder's appointments are showing that he is moving toward a coalition/unity government which is what Michigan needs. The state of the economy cannot be laid at the feet of the Democratic governor Jennifer Granholm alone without calling into the question the role that Republican Senate leader Mike Bishop played and the stalled tactics to shut down state government.
So when the history of the Granholm administration is written, it has to be a painful narrative about how partisan gridlock, the dislikes of personalities and the egotistical battle for power interfered with meeting the most pressing needs of taxpayers.
Snyder can learn from all of that history by ensuring that he brings diverse voices in his cabinet as he's done with the Dillon appointment. His governance style and proclamations will determine how the public views him.
Snyder owes no special interests, political groups or culture war activists who have paraded themselves as the commanders of morality any favors.
His only accountability is to taxpayers who foot the bill of the state machine and not parasites — masking as concerned political activists — who have long been making their comfortable living by fueling wedge issues backed with deep pockets.
Balancing the state budget and getting down to business is top priority, and as we move forward it is important that Snyder employs those who are most talented and competent. Political philosophy should not be a determinant for appointing able members of the Snyder administration.
True, that will disappoint some individuals in his party, but for a man who has proclaimed that he is not interested in labels, we should accept, respect and, yes, applaud his decisions when they benefit our state.