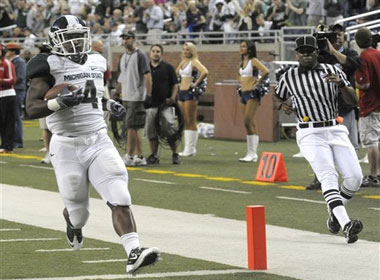 EAST LANSING — Michigan State University sophomore running back Edwin Baker came to the school after being selected to play in the 2009 U.S. Army All-American Bowl, was named to PrepStar's Dream Team and earned SuperPrep All-America honors. So far, Baker is living up to the hype while helping carry the Spartans towards post season glory.
The 5-foot-9, 208 pound pistol of a running back from Highland Park is gaining acclaim around the nation as a person teams will have to game plan against if they plan on beating the Spartans. After the season's first five games he has already surpassed his 2009 rushing total of 427 yards.
Coming out of spring he earned the designation of being the starting running back on the depth chart. However, with MSU coach Mark Dantonio using the three-headed monster at running back (Baker, freshman Le'Veon Bell and last year's leading rusher Larry Capers), Baker more that likely will not get enough carries to pile on big numbers.
"I'm cool with how the coaches rotate the backs," he said. "I think it will help me in the long run stay fresh, because my body will not be as beat down. The fact of the matter is anything that helps this team win games is what we should be doing."
Said MSU coach Mark Dantonio: "Baker has done everything we have asked of him. He has come through in a big way for us in a number of games this season. We have complete confidence in him that he will execute the plays and given a certain situation he'll do even more than we ask."
Ranked fourth in the Big Ten and 15th in the nation with his 113.8-yard rushing average through six games (683 total yards rushing), he is also averaging an outstanding 7.0 yards per carry.
Baker started out the 2010 campaign on fire, rushing past Western Michigan (117 yards on 17 carries) in the season opener and scoring two touchdowns. He was named Spartan Offensive Co-Player of the Week. That was just the start as he produced a career-high 183 yards on just 15 carries (12.2 avg.), including an 80-yard touchdown scamper against Florida Atlantic at Ford Field in Detroit.
"That is why I chose MSU, for moments like that," he recalled. "I got to play at home in front of family and friends. Being in East Lansing it the perfect place for me because of its location and Coach D (Dantonio)."
Baker just continues to bust tackles, make the spectacular cuts and outrun defensive backs to the end zone. In the overtime win against Notre Dame he clocked 90 yards, but came through with the big hit, scorching the Irish defense on a 56-yard touchdown burst in the third quarter. He came back and amassed 147 yards in the win over Michigan in Ann Arbor. His memorable play was an exciting 61-yard touchdown gallop that helped him produce the sixth-highest rushing total for a Spartan against the Wolverines.
"I like to think I have speed and power," Baker said, "but it is my vision that is making me a good running back. One thing I had to do in practice was, because of my size, some thought I could not be a power back, but I proved that I could get the tough yards when they give me the ball in those situations."
Baker noted that the thing that will make him a great back is to continue to improve his pass blocking.
"A back has to want to protect his quarterback," he noted.
With Baker leading the way, the Spartans jumped out to a 6-0 record and had many of its faithful dreaming of a possible New Year's Day bowl game.
"We had the talent last year, too," he said, "but this year we have the chemistry and everyone has come together and is helping each other get better every game. That's how we practice and look at our season, one game at a time. We are preparing and focusing on only one opponent and I think that is a positive for us.
"I think in the past an MSU team might have gotten knocked off stride after Coach D's health issue. But after seeing the white in his eyes, he told us he was going to be all right and we believed him."
Leland Stein III can be reached at lelstein3@aol.com.