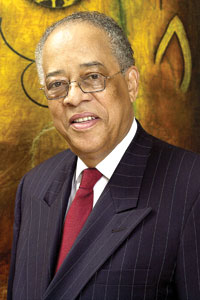 In 1978, I was honored and humbled to share the stage with Civil Rights First Lady Rosa Parks in Pittsburgh. We were both getting awards from the National Association of Negro Business and Professional Women's Clubs for our commitment to civil rights. She said something to me there that I never forgot.
"You know, Mr. Brooks, those corporation jobs belong to the people who struggled to make it possible. Make sure you always work to enable other Blacks to get where you are," she said.
I got a PhD in the freedom struggle that night where I was able to sit, not only with Rosa Parks, but with another giant award winner, Ms. Anita Blackwell, then-mayor of a small city in Mississippi. I stayed up nearly all night listening to her stories about historic freedom fighter Fannie Lou Hamer, whom Blackwell served as a personal assistant.
The things those two great women shared with me have soaked my consciousness. I will always be grateful to them.
In 1995, 17 years after Rosa parks challenged me to work and give back to the Black community, I traveled to Washington, D.C. for the swearing in of Myrlie Evers as chair of the National NAACP, who I met through Mrs. Parks. As we sat at the airport in Washington, D.C. following the swearing in ceremonies, waiting to return to Detroit, I asked Mrs. Parks, "How am I doing?"
"You are a good 'B' student, but you have the capability to become an 'A' student, if you focused and worked harder," she said as she increased her original marching orders.
The next year, I discovered that I would once again be with Mrs. Parks in Los Angeles, where we were scheduled to receive NAACP Image Awards. Just prior to my departure, I learned that Mrs. Parks was having car problems.
Despite the issues, she managed to get to the pre-awards dinner the night before the event where I called her up to join me on the podium to receive a welcome surprise — the  presentation of keys to a new Cadillac.
She was pleased. Very, very pleased.
After the ceremony, she went out of her way to find me in order to anounce, "Mr. Brooks, you are finally an 'A' student."
I can't express how happy that made me to please my mentor and role model.
In 1997, while I was recovering from prostate cancer, Mrs. Parks visited me in the hospital, devoting three hours of her time exclusively to me. It was an afternoon I will never forget.
Her spirit stayed with me and when I retired that same year, Rosa Parks was seated at the head table of my retirement event hosted by General Motors.
I will never forget Rosa Parks. And I just hope that I can continue to be an 'A' student.