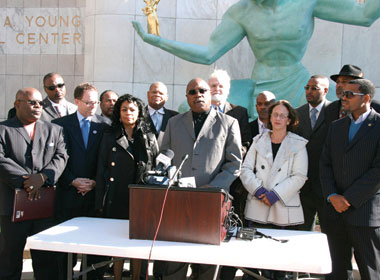 Rev. Wendell Anthony, president of the Detroit Branch NAACP, is leading a charge with a coalition of various civic organizations calling on the Democratic and Republican gubernatorial candidates Virg Bernero and Rick Synder to hold a debate in Detroit, Michigan's largest city.
"The upcoming statewide election for the office of governor is vitally important to the citizens of our city. The fact that there has been no direct discussion from the two candidates on the question of the future of the city of Detroit to Detroiters as a whole is outrageous," Anthony said. "The democratic process demands that candidates running for public office provide a broad base of opportunity for the people that they would lead to both question and engage the issues.
"Gubernatorial candidates should avail themselves to Detroit, the city that has the most voters, in a debate to educate and be educated on the issues and concerns that will ultimately affect them the most. The people of Detroit have a right to hear from you and speak to you about their concerns in an unfiltered and unscripted public forum. We do not fully know who Rick Snyder is. He has never held public office and never led a city or a state.
"We know he is a 'nerd' based on his own admission and is a successful businessman. To lead the city and the state requires more than that. Although Virg Bernero is the current mayor of the city of Lansing and has government experience, he has never served as governor of a state and Lansing is not Detroit. Detroit is ground zero and it is for office in Michigan to disregard Detroit voters' requests for debate."
Anthony believes it is important for Detroit, which has a unique set of economic and social realities, to hear from both candidates together.
"This cannot be accomplished by having a debate in Wixom on Oct. 10," he said. "No minority organizations are involved in the planning and facilitating of this debate which will focus on economic growth, education and reform in general. No minority organizations appear to be involved in the questioning and the direction this debate will take. You cannot fully integrate the issues of the city of Detroit into a one-hour debate on Detroit Public Television with no input from this community."
He mentioned the current plan for a gathering at the Detroit Economic Club which is open to those members who can pay $45 to $55 for guests and $75 for non-members scheduled for Oct. 7. This is not free nor is it open to the public.
"This is a discussion between business and corporate leaders. We believe that it is imperative for Mr. Bernero and Mr. Synder to speak to the people on Linwood, Wyoming, Mack, Greenfield, Conner, Six Mile Road, Vernor, Clark Street, Grand River and throughout this City," Anthony said.
"Detroit has among the highest home foreclosures in the nation and our unemployment rate is nearly 40 percent. Our school system is going through major changes, currently under the direction of a financial manager. The mayor and the City Council are in the process of determining how Detroit will be restructured in the years to come.
"Detroiters currently pay more for auto insurance, home insurance and every other level of insurance. We are looking for a governor who will focus on eliminating predatory lending and assisting to ensure financial equity for all.
Anthony said any candidate that is not willing to speak directly to the citizens of Detroit in an open and unfiltered debate with minority journalists or stakeholders from this community is not worthy of the vote from the people who live in this community. He added that picking a few friendly churches or organizations does not address the fundamental issues.
"MMSDC's 1,400 minority owned businesses employ over 48,000 people and contribute over $100 million in taxes to the State of Michigan. The success and very survival of Michigan will be determined by how we address the business opportunities in the state, with particular attention and focus on a strategy to fully engage the city of Detroit," said Louis Green, president/CEO, Michigan Minority Suppliers Development Council.
Michigan ACLU boss Kary Moss added, "Gubernatorial candidates should avail themselves to Detroit, the city that has the most voters, in a debate to educate and be educated on the issues and concerns that will ultimately affect them the most."
"It is incumbent upon our community leaders from law enforcement, education, faith, grassroots organizations, business and our government officials to enter into a discussion and to take action to overcome structural impediments to inclusion and equity in our region," said Thomas Costello, president/CEO, Michigan Roundtable said.
Rev. Edwin Rowe of Central United Methodist Church, said, "Detroit is ground zero for victims of the current economic disaster. Forty-five percent of our workers are unemployed. Unemployed because of decisions they had nothing to do with.
The CEOs who bankrupted their companies continue to be paid large salaries and bonuses. And yet the citizens of Detroit are determined to rebuild their city. As 20,000 visitors to Detroit in June stated, 'A new Detroit is happening.'
The eyes of the world and its media are watching as we rebuild. For the candidates for the governor of Michigan to ignore the city of Detroit would be a politically lethal mistake."