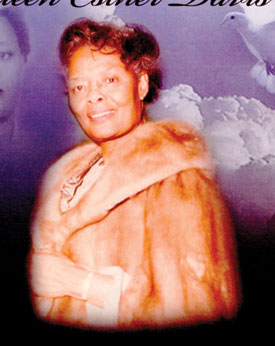 Esther Davis, mother of Donald Davis, chairman and CEO of First Independence Bank, died Sept. 28 at age 95. She was born in Comer, Ala., and moved to Detroit in 1934.
Known as "Queen," she worked at Chrysler for 30 years, retiring in 1973. She was a strong unionist, serving local 212, even into retirement. She traveled extensively, throughout the country and around the world.
Mrs. Davis was also especially proud of her family and maintained an archive of assorted memorabilia that chronicled the family members' many achievements.
Interment was at Elmwood Cemetery. Arrangements were handled by Swanson Funeral Home.