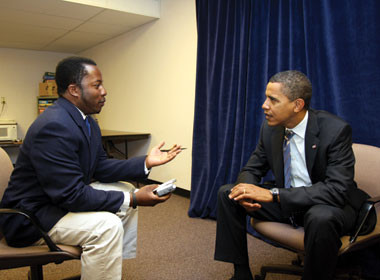 As the Michigan Chronicle kicks off its 75th anniversary this year, I salute the men and women who have kept this treasure in Detroit for 75 years.
From the publisher, Sam Logan, who has been the driving force behind the paper for more than four decades, to the staff members like Pauline Leatherwood, our receptionist, who has been in that role for more than 50 years and others who have put decades of work into this institution.
They all have more bragging rights than I do because it was only four years ago that I was tapped to serve as editor of the paper. When the call came in that the Chronicle was very interested in appointing me as the next editor as the paper was preparing to celebrate its 70th anniversary, I was flattered. I had no idea at the time that being a provocative and controversial political reporter would land me the top position at a major publication. I appreciated and respected the venerable publisher Sam Logan's decision to entrust the editorial content of the paper to a 26-year-old journalist. It showed his willingness to prepare for the future and bring a different perspective to the paper.
I recall the first time I walked into his office, Logan assured me that he would not tie my hands. He pledged his unfledging support of my role at the paper that allows me to enjoy one of journalism's sacred tenets — editorial independence.
There were times when we made controversial decisions that spared the soul of the paper, and not for political expediency because the editorial board understood that a relevant and effective newspaper has to speak truth to power no matter who is in the driving seat at city hall.
But Logan's backing of my work goes beyond just supporting his editor. It speaks to his commitment to the community in which we live. He always reminds me that he believes that young people represent the future and as a result, young journalists must be empowered to become the communicators and storytellers of our time.
His philosophy on that and in other areas explains why most of the staff members have been around so long, in many cases for decades. He believes that for any journalist to make an impact, the environment that allows for one to find a sense of achievement and fulfillment in continually informing this community should exist.
People who know Sam Logan have asked me repeatedly at functions, what is it like to work for him and what is our relationship like? I tell them I enjoy his support because he understands the need for separation of roles and continues to maintain that.
Micromanaging does not advance any company or entity. It stifles growth and threatens progress. The freedom to allow committed men and women to make use of their own talents in order to inform Detroit is priceless and an impetus for any serious media outlet.
Today as the paper moves into another milestone — 75 years of existence — I am humbled to be part of this institution's story. I am grateful for the opportunity to continue to serve Detroit and beyond.
Being editor is more than an assignment for me. It is a philosophy and an abiding principle deeply rooted in the philosophy that gave rise to the Black press and other ethnic media outlets across the country. The history of the African American pilgrimage has not always been told accurately. In fact, there is insurmountable evidence of how misinformation, disinformation and propaganda meted against African Americans have left our community virtually powerless for long periods of time.
But the emergence of the Black press began to change that. For us, writing stories and informing Detroit is more than creating headlines. It is a service to a community that we so deeply love.
Not everyone will agree with what we write and place on the front page of the newspaper. Not everyone will be happy that we printed the truth. Some will prefer that we blindly beat the drum of "Gloriana Africana" so as to give a pass to Black elected officials who messed up and/or betrayed the trust of their people.
That is not the role of the 21st century Black press. Ours is to be relevant. And to be relevant means to dig deeper and print the stories that are feeling the pulse of our community. The stories that most of us would prefer not to talk about. We cannot shy away from being a lantern shining a light on the ills and troubles that are plaguing our community, some of them self-inflicted.
I have always argued that the media is also a stakeholder in this community. And because we are stakeholders, we cannot walk away from things that are detrimental to Detroit's future. We have to confront the issues and not pay lip service when leadership is most needed.
Here at the Chronicle we don't have an ivory tower approach to the news because we want to remain connected to where the real stories are.
So at this time I pause to thank our readers for the support they have given us over the years. We thank the community which has stood behind us and supports our initiatives. That support empowers us, which in turn helps us to empower the community.
We ask our readers to continue to follow us, not only in the print edition but also on the Web where our news portal brings up-to-date news affecting Detroit and the nation.

Senior editor Bankole Thompson is the author of the upcoming book, "Obama and Black Loyalty," volume one of a trilogy on President Obama to be launched Oct. 22, 10 a.m. in the Wayne State University Law School auditorium. He was nationally recognized for his series of exclusive sit-down interviews with Obama during the campaign. He is the host of "Center Stage with Bankole Thompson" airing Saturdays at 1 p.m. on WADL-TV 38, Comcast Channel 4. You can also listen to his weekly political analysis on "The Craig Fahle Show" on WDET 101.9FM/NPR affiliate Thursdays at 11:15 a.m. He will be on WDIV's "Flashpoint" on Sunday, Oct. 10, at 10 a.m. E-mail bthompson@michronicle.com.