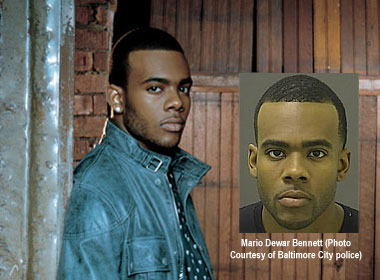 Baltimore native and R&B Singer Mario was arrested around 1 a.m. last night for allegedly assaulting his mother, Shawntia Hardaway, according to the Baltimore Sun.
Police responded to a call at 12:53 a.m. where they found Hardaway upset and crying in the lobby of her apartment complex. She told police that her son who full name is Mario Dewar Bennett was "throwing and damaging property" inside the apartment they share.
Police found a damaged china cabinet, a broken mirror, a hole in a closet door and broken glass all over the floor, the Baltimore Sun reported.
According to police documents, the mother said he also caused her minor pain after he allegedly pushed her using his hands and forearms. She stated this was the second time within a few days that he has assaulted her. On Sept. 27, she said they got into an argument and he pushed her into a living room wall where she hit her head on the wall.
Bennett was charged with one count of second-degree assault. He was released after posting a $50,000 bond.
Both mom and son appeared on MTV's 2007 reality show, "I Won't Love You To Death: The Story of Mario and His Mom" that chronicled Mario's mom as a heroin addict and how it affected their relationship. As of today, she has been sober for a year.