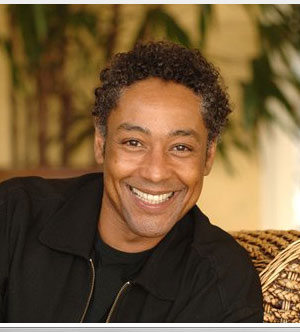 Superstardom is just not in the cards for some entertainers, although based on their skills and achievements, it should be.
One example is actor Giancarlo Esposito, whose face is familiar to perhaps most people, though not necessarily his name. He has a long history of films and television appearances to his credit, but he never broke all the way through like Samuel L. Jackson, Laurence Fishburne, Morgan Freeman and Denzel Washington.
Esposito is one of the best. I first saw him in "School Daze" in 1988. I did a lengthy interview with him years later when he was in a play at the Fisher Theater. He is absolutely nothing like Julian, his hard, sexist "School Daze" character. On the contrary, he is warm, friendly — and very talkative.
Also, the actor, who was born in Copenhagen, Denmark, has one of the most unusual names in show business or anyplace else: Giancarlo Giusseppe Alessandra Esposito.
IN RECENT years many celebrities have been vocalizing their support for gay people and for an end of that, and by extension, all forms of discrimination.
"I have never judged anyone based on his or her sexual orientation," said Vanessa Williams. "I have a lot of gay and lesbian fans and I love them no differently than my straight fans."
Jennifer Holiday personalized it even more: "If it were not for the gay and lesbian community, I would not have half the career I've had."
Among others who have spoken out are Mary J. Blige, Eve, Russell Simmons, Mo'Nique, Tyson Beckford, Jason Lewis ("Sex and the City"), Patti LaBelle, Brandy, Jennifer Lopez, Kanye West, Janet Jackson and Tyra Banks, as well as Barack Obama, Bill Clinton and the late Coretta Scott King.
I hate with a passion all forms of prejudice, whether based on race, size, sexual orientation, looks, social standing, religious beliefs or anything else. It is, among other things, stupid, pointless and counterproductive — and it says more about the prejudiced person than it does about their targets.
People are people, and we all need love, acceptance, friendship, understanding, kindness, support, warm smiles, forgiveness, etc.
The self-appointed judges need to do some serious thinking and readjusting.
ONE OF THE oddest things being reported is that Haiti-born recording star Wyclef Jean may be considering running for president of that troubled Caribbean country. However, Jean is not a stranger to government. In 2007 he was appointed ambassador-at-large for the Republic of Haiti by President René Préval.
Oprah Winfrey's new television channel, OWN, is producing five two-hour documentaries that are scheduled to begin airing in early 2011. Many huge stars have signed on, including Academy Award winners Forest Whitaker and Julia Roberts.
Whenever Afro-Sheen and Afro picks happen to be mentioned, immediately the mind goes back to the 1970s when Afros were the style. But Questlove, leader of the Roots, that is now the house band on Jimmy Fallon's late-night TV show, says with a laugh that he still uses those products. And by the way, his real name is Ahmir Thompson.
We wish the best for Al Jarreau, who at the time of this writing is in serious condition in a hospital in France after having breathing problems. Jarreau is, of course, one of the greatest and most unique artists of all time.
Merald ("Bubba") Knight was once asked how he, Gladys Knight, and fellow Pips Edward Patten and William Guest managed to stay so humble. His response: "Because we know that God blessed us and He can take it away." (Great answer!)
"Jersey Boys," the stage musical based on the career of Frankie Valli and the Four Seasons, has been a huge hit on Broadway and elsewhere. Now there is serious talk of a show making it to Broadway based on the Shirelles and Florence Greenberg, the lady who discovered them and subsequently created Scepter Records.
The Shirelles were the No. 1 female vocal group in the nation from the early to mid 1960s. As Ronnie Spector of the Ronettes put it, "Those girls had hit after hit after hit." That includes "Soldier Boy," "Dedicated to the One I Love," "Mama Said," "Baby It's You," "Foolish Little Girl" and "Will You Love Me Tomorrow?"
Angelina Jolie says she would love to live in Africa.
BETCHA DIDN'T KNOW…that over the years, seven women have been "Peaches" in the Peaches & Herb duo, and the last one wasn't even Black. She was from Spain. But the only two who really count are the original Peaches, Francine Barker ("Let's Fall in Love," "Close Your Eyes") and Linda Green ("Reunited," "Shake Your Groove Thing").
MEMORIES: "Good Times" (Chic), "I Wanna Be Your Lover" (Prince), "I'm In Love" (Evelyn "Champagne" King), "Used Ta Be My Girl" (the O'Jays), "Portuguese Love" (Teena Marie), "Let It Whip" (the Dazz Band), "Our Love" (Natalie Cole), "I Feel For You" (Chaka Khan), "Superwoman" (Karyn White), "Atomic Dog" (George Clinton), "That Girl" (Stevie Wonder).
BLESSINGS to Dorian and Windy McClure, Henry Fambrough, Norma Fambrough, David Banks, Melody Moore, Kimmie Horne, Nat Morris, Robin Larkin, Milton Larkin, and Claude Young.
WORDS OF THE WEEK, from Eminem: "If you're in a dark place, I'm telling everybody that it does get better."
Let the music play!
(Steve Holsey can be reached at Svh517@aol.com and PO Box 02843, Detroit, MI 48202.)
About Post Author