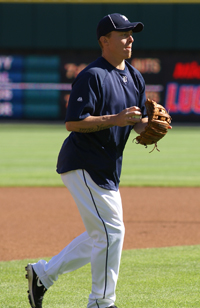 "Obviously this isn't the way we wanted to start the second half," Jim Leyland said.
The Detroit Tigers came out of the All-Star break by dropping six straight games, which included four straight losses to the last place team in their division (Cleveland Indians). During the stretch the Tigers simply didn't execute — they made numerous miscues in the field, on the base paths and at the plate.
Making matters worse? A serious injury to one of their key everyday players.
Tough break, Brandon Inge to miss time with hand injury. Tigers starting third baseman will miss four to six weeks with a non-displaced fracture of the fifth metacarpal bone in his left hand.
"I don't like taking a day off, four to six weeks is going to crush me," Inge said.
The 33-year-old suffered the injury after he was hit by a pitch last week (July 19) by Texas Rangers starter Scott Feldman. After hearing the diagnosis, Johnny Damon admitted it wasn't going to be easy replacing him in the line-up.
"There's not to many players that can play third base like Brandon," Damon said. "We knew his bat was going to come around soon and it's just a tough break."
Inge's power numbers were down this season after hitting 27 home runs in 2009 (tying a career high), but off-season surgery on his knees contributed to his early season struggles. He said his legs were just starting to feel 100% for the first time this season before suffering the setback.
"It's funny, Steve Carter, one of our trainers, goes, 'I bet your legs don't hurt anymore, do they?/" Inge joked.
The Tigers called up Scott Sizemore from Toledo and will platoon Sizemore, Don Kelly and Ryan Raburn at third for the time being.
No negativity here, players confident things will turn around. "Obviously we don't like the way we started the second half, but we know we're a good enough team to bounce back," Damon said.
The Tigers outfielder conceded the team has some things to work out, specifically, hitting better with runners in scoring position, but Damon thinks they will respond quickly and get things back on track.
The positive attitude in the clubhouse had Brandon Inge confident that even with setbacks like his and Joel Zumaya's injuries, Detroit wasn't going to let the poor play snowball further into the summer.
"I think this is a stretch that can take you in two different directions and I know we're not going to go in the negative direction," Inge said. "This is one where we're all going to mesh and come a little bit closer together as a group."
Rounding the Bases
• First – Scott Sizemore was on a tear in the minor leagues before getting called up. He had a nine-game hit streak going. Tigers fans hope he can bring that kind of lumber now that he is back in the bigs.
• Second – Miguel Cabrera's 20-game hit streak that ended shortly after the All-Star break was the longest of his career and the longest of any Tiger batter this season.
• Third – It's not even August and Miguel Cabrera has almost as many RBIs through the middle of July (83) as he did all last year (103). Cabrera is putting together one of the all-time best single season offensive performances in Tigers history.
• Home – Home is definitely where the heart is for the Tigers, through July 22 the club had the best record (33-15, .688 winning percentage) in the American League at home.
Comments? Questions? E-mail Michael Niziolek at mniziolek@ymail.com.
About Post Author