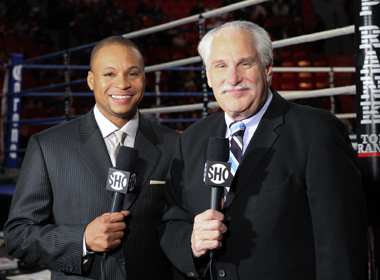 Basketball is a fast-moving game and De­troiter Gus Johnson is proving to be just as fast in recounting and presenting the rhythm and flow of the hardcourt's action as any announcer on the national stage. Great moments become memorable and extraordinary with Johnson at the mike.
There is a large and growing body of basketball aficionados who would say Johnson is arguably the most entertaining play-by-play man in sports. He could make watching grass grow compelling and enjoyable.
COMMENTARY
I've been around every aspect of basketball — as a player, coach, fan and now a writer and I think I qualify as an enthusiast and connoisseur I can truly say Johnson brings flavor to my ear with his unique style, and I'm not alone in feeling that way.
"He's got a great voice and it is custom made for basketball," CBS basketball color man Clark Kellogg told me. "He captures the rhythm and flow of a basketball game in a very unique way. Every vibe I'm getting is that people really love his style."
Added Greg Kelser the Pistons and Big Ten Network play-by-play man: "He makes the game exciting and he has a great set of pipes. Plus he is always prepared and he has excellent energy. I enjoy just listening to him."
Kellogg and Kelser have worked with Johnson and each told me he is easy to work with and has a special way that makes them feel like they are at home sitting on a sofa, drinking a soda and talking about the game.
There is a growing body that feels just as Kelser, Kellogg and I, and surely they are the ones that matter, as CBS Sports, Showtime, Madison Square Garden Network, the Big Ten Network, and the Detroit Lions Television Network have all enlisted Johnson's pipes.
Johnson, 42, is among a long list of men from the Detroit area that are out on the national basketball stage as announcers and analysts — Jalen Rose, Chris Webber, Grant Long, Steve Smith and Kelser, to name a few.
Johnson told me in our interview that he thinks being an athlete has helped him understand and appreciate what it takes to compete at a high level both on the field and in the booth.
A product of Detroit St. Cecilia from grades 1 through 8, Johnson then went to Detroit Jesuit High School, where he displayed his athletic prowess as an All Catholic League quarterback, guard on the basketball squad and as a first baseman and catcher on the baseball team.
Johnson told me he had a little game. I say he had more than a little as he went on to Howard University and played catcher on the Bisons baseball team. He graduated from Howard with a degree in political science in 1990 and was a four-year letter winner on the baseball team. However, being the next senator or Elston Howard was put on hold after he graduated.
Johnson's ascension was not entirely by accident as he told me that he was the student body president for the Liberal Arts College, worked in the sports department for the Hill Top school newspaper and worked in Howard's affiliate television and radio mediums.
Feeling his passion as a sports announcer after leaving Howard, Johnson was more than ready to endure the circuitous route it takes to elevate oneself to the level he now enjoys. First to Waco, Texas, working at KXXV-TV, then Huntsville, Alabama, to Winston-Salem, North Carolina, and so it went.
"I paid my dues," Johnson said. "Since I was young I was always put in positions to speak in front of groups. So it became natural to me and I decided that it would be wise to use the gifts God gave me after leaving Howard."
Known in the basketball community as a demonstrative and colorful announcer, Johnson knows his style is not appreciated by all, noting, "There will always be haters no matter what you do, but you cannot pay attention to that. You have to just be you and let the chips fall where they may.
"When I first started, I had a friend tell me, 'Let that little Black boy from Detroit out of its cage and you will find your voice as a broadcaster.' I love Detroit and it is my home, so I thought about that and made a decision to just be me. I tell you, working in New York (Knicks radio for 14 years) you have to have thick skin, especially since the team is not doing so well lately."
Johnson, who also is known for his play-by-play coverage of CBS Sports' March Madness, said he is extending himself as a businessman, too. He is venturing into an apparel company, "Rise and Fire," and has a production and publishing group called "Big Red Robot."
Said Johnson: "I'm a Detroiter and my goal is to have an impact on this community. This is where I got my drive to go for what I dreamed about and not be afraid to do it."
Along with joining the Big Ten Network for their basketball coverage in 2008, he also became Showtime Championship Boxing's lead blow-by-blow caller, the play-by-play man alongside Bill Raftery in EA Sports NCAA Basketball 10 and in 2010 it was announced that Johnson will be the first African-America play-by-play announcer for EA Sports Madden NFL 11.
"Man, I am thankful to John (Madden) that I was chosen for the most popular video game in the country," he said. "I suppose being that little boy from Detroit was a good thing for me."
Leland Stein can be reached at lelstein3@aol.com.
About Post Author