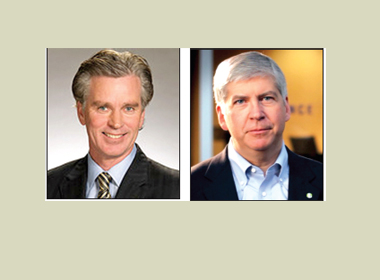 Based on their positions on various issues, and on interviews with the candidates, the Michigan Chronicle editorial board believes the best choice among the Democratic candidates for governor is current House Speaker Andy Dillon, and the best choice among Republicans is Rick Snyder.
Dillon, who argues that his experiences both in and out of government make him the best choice to be Michigan's next governor, said his number one goal as governor will be jobs.
He said 50 percent of all job loss in the country in the last ten years has been in Michigan. To fix the state's drop from a top 20 per capita income state to a bottom 10, Dillon said Michigan can build on its assets, including:
Michigan is number two in the country in research and development investment.
Agriculture is the state's second biggest industry.
Tourism.
The skilled workforce industry and existing infrastructure.
He also said he has a comprehensive 12-point urban agenda plan encompassing access to jobs, transportation, a good education and health care, and public safety in the neighborhoods. He said his administration will have a cabinet-level position responsible for the urban agenda, with meetings every two weeks.
Dillon sees three big problems for the state: a complicated tax, a regulatory environment that isn't user friendly, and a perception that Michigan is a hostile state because of labor tensions.
Dillon also said the regional transit authority has to happen, but we won't solve our mass transit problem if we let every city opt in or opt out.
As governor, Dillon would meet on a regular basis with the Senate Majority Leader, the Speaker of the House, and the minority leaders of both chambers.
Snyder, an Ann Arbor-based venture capitalist, has a 10-point plan to reinvent Michigan. Snyder's plan, as outlined on his website. calls for:
Creating more and better jobs. He believes the state needs to cultivate a thriving and globally competitive economy with a diverse business base, which will enable job growth and prosperity.
Reforming Michigan's tax system to facilitate economic growth by being simple, fair, competitive and efficient.
Fixing Michigan's "broken government" by having a solution oriented approach to governing, not a politically motivated one. He also wants to restore ethics, accountability and transparency to state and local government.
Creating an environment that will keep youth in Michigan. Snyder believes his experience as an entrepreneur and mentor has given him an understanding of how Michigan can retain and attract young talent.
Restoring cities and controlling urban sprawl. Snyder said infrastructure and transportation funding must be prioritized and that he supports the establishment of a proper mass transit backbone in the state. He also said he will work to improve the state's city centers and create attractive living and working environments for its citizens.
Enhancing Michigan's national and international image by encouraging and support tourism, creating a culture of entrepreneurship, investing in the arts, and protecting and improving the quality of life.
Protecting Michigan's environment.
Reforming Michigan's educational system.
Reforming Michigan's health care system by moving the state to a more patient-centered model to achieve large cost savings, promote wellness and improve overall service quality.
Bringing "winning" back to Michigan by creating a hopeful, positive culture and attitude where personal responsibility and collective determination introduce the state to a new era.
About Post Author